Start of Main Content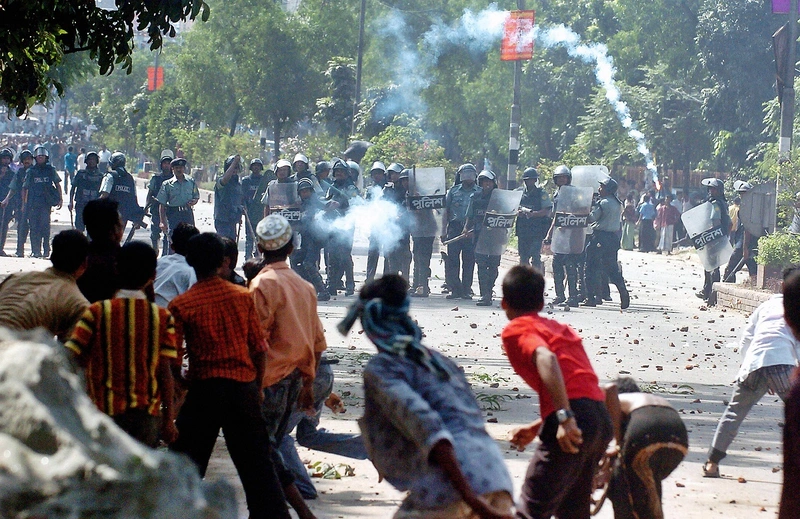 Bangladesh emerged as a secular democracy in 1971 after a bloody independence war from Pakistan that was marked by mass killings by the Pakistani army and its collaborators. This history of mass killings continue to influence political dynamics today, which are becoming increasingly polarized between the two main political parties: the Awami League and the Bangladesh Nationalist Party.
Background
The Simon-Skjodt Center's research aimed to identify the scenarios in which Bangladesh could plausibly experience large-scale, systematic attacks on civilians, and to explore ways to help avert these scenarios. The report focuses on varieties of "worst case" scenarios in Bangladesh not because they are highly likely, but because their impact would be extreme.
The report was informed by 106 interviews with experts in Bangladesh and the United States. Several themes emerged about worrisome trends from our analysis, including growing political factionalism, past violence around the 2014 election, authoritarianism, impunity for serious human rights violations, and crackdowns on civil society that could serve as a source of resiliency against mass violence. The report finds that the risk of mass violence is rooted in the competition between the ruling Awami League, and the Bangladesh Nationalist Party, making the general elections scheduled for late 2018 a potential flashpoint.
Assessing the Risk of Mass Atrocities in Bangladesh
Bangladesh has ranked in the top 20 countries for each of the last three years on the Simon-Skjodt Center for the Prevention of Genocide's Early Warning Project's global statistical risk assessment. Specific factors that have contributed to Bangladesh's relatively high assessed risk include its history of mass atrocities during its 1971 Liberation War, political factionalism, and the existence of armed conflict in neighboring countries.
Breaking Cycles of Distrust: Preventing Mass Atrocities in Bangladesh analyses the scenarios in which mass killings could plausibly occur, without presupposing such atrocities will happen for certain. The report focuses on the 2018 national elections as a potential flashpoint. The report sees a relatively low risk of violence in the pre-election period as both major political alliances are likely to participate in the election. There may be a higher risk of mass atrocities in the immediate post-electoral period regardless of the outcome, and the risk may be especially high if there are contested or unclear electoral results.
The report calls for political parties in Bangladesh to engage in formal dialogue and agree on election-related standards to mitigate the risk of mass atrocities around the 2018 elections. It also urges the Bangladesh government to allow democratic space and for the opposition to desist from violence. The report also addresses the need for the government of Bangladesh to ensure accountability for human rights violations and the importance of atrocity prevention training for stakeholders working in or focused on Bangladesh. Mitigating the risks and reinforcing resiliencies related to mass atrocities will enable to Bangladesh to sustain social and economic development, strengthen democracy, and promote accountability.
This page was last updated in November 2017.