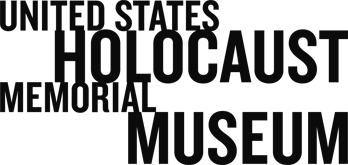 Offenbach Archival Depot: Restitution Efforts
Offenbach Archival Depot: Restitution Operations and Disposal of Unidentified Items
Martin Dean, United States Holocaust Memorial Museum
Introduction
From the Offenbach Depot millions of books were carefully sorted, packed up and shipped expeditiously back to their countries of origin. Nevertheless a residue of some 500,000 Jewish volumes remained by 1946 whose owners could not be identified or traced. After careful deliberations these ownerless volumes were given into the custody of the Jewish Cultural Reconstruction Organization (JCRO). They were to continue efforts to locate owners and distribute the remainder among legitimate Jewish successor organizations.
Restitution Operations of the Offenbach Depot
Transfers of books and cultural items to the Offenbach center were carefully supervised by U.S. Army Monuments, Fine Arts and Archives officers. The Offenbach facility was designated as the sole archival depot by the Office of the Military Government in the US zone of Germany (OMGUS). Archives and books were to be restituted to their countries of origin by the Director of the Offenbach Archival Depot. In order to facilitate restitution, an official at Offenbach prepared several volumes of book-plates and markings or stamps found on the books. The large-scale shipment of books back to Holland, France, Czechoslovakia, the Soviet Union, and other countries of origin can be traced through surviving ledgers and photographs.
The Library of Congress Mission 1945–1947
Dr Luther Evans, the Librarian of Congress, sent a mission of nine individuals to Germany in December 1945. The mission's first aim was to purchase materials published in Germany that were required for the collections of the LoC and other American libraries. In addition, the mission was directed to remove and preserve sensitive Nazi materials, which would otherwise have been destroyed. An example of this type of material was the removal of some 60,000 volumes from the library of the Reichskolonialbund, which was viewed as 'a working tool for German expansionism.' Other items collected included cinema films produced by the Nazis and impounded by the American Occupation forces. However, the directives governing the operations of the LoC mission expressed careful concern that any restitutable materials looted by the Nazis should not be added to LoC collections.
Loan of Books to Jewish Displaced Persons Centers
At the end of 1945 the American Joint Distribution Committee (AJDC) made a request for some 25,000 books to be loaned from the Offenbach Archival Depot for everyday use amongst Jewish refugees in the DP camps. Simon Rifkind, the US Theater Commander on Jewish Affairs expressed particular concern to Lt. General Clay that religious functionaries should have access to basic Rabbinical literature. The proposal was that a certain number of prayer-books and ordinary books of no special historic or artistic merit should be distributed among re-established synagogues and to the DP camps.
Authorisation for the loan was granted and with the help of eminent experts more than 21,000 items were selected, mostly in March and April of 1946. Amongst the experts involved in this work was Prof. Koppel Pinson of the AJDC. In spite of the considerable need for such books in the DP camps, however, no subsequent loans were approved. In particular, difficulties were encountered in tracking books forwarded to DP camps that were subsequently dismantled or lay outside the American Zone.
Disposal of heirless and unidentifiable items
By the summer of 1946 some 500,000 books remained at the Offenbach Depot which could not be restituted as their owners were not identifiable or could not be located. One proposal for the items of Jewish origin was the creation of a Central Jewish Library in Copenhagen. After lengthy discussions, however, nothing came of this idea.
The Committee on European Jewish Cultural Reconstruction proposed instead that the outstanding books and cultural items be distributed to centers of Judaism and Jewish learning throughout the United States and Israel. Professor Jerome Michael of the committee described the scattering of the Jews of Europe across the globe that had resulted from Nazi policies. He argued that the bulk of the objects should be removed from Europe to the new centers of Jewish life and scholarship overseas.
Progress was not made on the disposal of the unclaimed Jewish books until 1949. According to an agreement signed on 15 February custody was given to the Jewish Cultural Reconstruction Organization (JCRO). Unidentifiable items for which no claims had been received were to be distributed to public or quasi-public religious, cultural, or educational institutions. The materials were to be used in the interest of perpetuating Jewish art and culture. The JCRO received the property on a custody basis only and undertook to seek the rightful owners and deliver all items to properly identified claimants.
By November 1950 the JCRO had distributed some 80,000 books to more than two dozen libraries. Given the real danger of neglect and dispersion for these valuable items in post-war Europe, the main beneficiaries were the new centers of Jewish life and learning in the United States and Israel.
List of Documents
Prof. Jerome Michael, Acting Chairman of the Commission on European Jewish Cultural Reconstruction, to General J.H. Hildring [sic.], Assistant Secretary of State, 5 June 1946. Source: National Archives (NA) RG 260 Box 720.
David Clift, Library of Congress (LoC) Mission to Mr. Clapp, 21 March 1946. Source: LOC-EMCAP Box 9.
J. Zuckerman, LoC Mission Berlin to David Clift, LoC Mission Frankfurt am Main, 18 February 1946. Source: LOC-EMCAP Box 33
Correspondence and Receipts from the Offenbach Archival Depot relating to items transferred to the LoC Mission, March 1946. Source: LOC-EMCAP Box 9 & NA RG 260 Box 721.
Reuben Peiss, Chief of LoC Mission to Lt General Lucius D. Clay, 6 July 1946. Source: NA RG 260 Box 721.
Paul Vanderbilt, Assistant Archives Officer OMGUS, to Major Born, 15 July 1946. Source: NA RG 260 Box 721.
Receipt for Jewish Cultural Properties issued by OMGUS to Jewish Cultural Reconstruction Inc., 30 May 1949. Source: NA RG 260 Box 254.
Jewish Cultural Restitution Inc. Agreement with Recipient Libraries (blank form), no date Source: NA RG 260 Box 66.
Hannah Ahrendt, Jewish Cultural Reconstruction Inc., to Mr. Theodore Heinrich, Cultural Affairs Officer, OEA, 21 January 1950.
Mr. William G. Daniels to Mr. Frank J. Miller, Office Memorandum within the Office of the U.S. High Commissioner for Germany, 27 June 1951. Source: NA RG 260 Box 66.