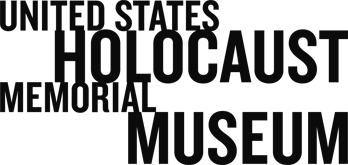 The Ornstein Family Experience: Death March and Liberation
The Ornstein Family Experience: Death March and Liberation
Survivors and American troops in Gunskirchen, a subcamp of the Mauthausen concentration camp, after liberation. Gunskirchen, Austria, May 6–15, 1945. —US Holocaust Memorial Museum, courtesy of Thomas Sweeney
Corpses of prisoners in a wooded area of the Gunskirchen concentration camp. Gunskirchen, Austria, May 7, 1945. —US Holocaust Memorial Museum, courtesy of National Archives and Records Administration, College Park, Maryland
Survivors from the Mauthausen concentration camp in a temporary hospital at an abandoned Luftwaffe airport. The original US Army caption reads, "Austria…The Army 121st Evacuation Hospital provides sanitary care for litter cases at an abandoned German airport near Neubau, Austria, where 4,000 prisoners of war were taken after removal from concentration camps." Neubau, Austria, May 15, 1945. —US Holocaust Memorial Museum, courtesy of National Archives and Records Administration, College Park, Maryland
A Hungarian Jewish survivor waits to be evacuated from makeshift barracks at an abandoned Luftwaffe airport to a US Army hospital. Neubau, Austria, May 9–16, 1945. —US Holocaust Memorial Museum, courtesy of National Archives and Records Administration, College Park, Maryland
Captain Robert A. Baker of Newberry, South Carolina, provides medical care to a former concentration camp prisoner suffering from malnutrition. Neubau, Austria, May 20, 1945. —US Holocaust Memorial Museum, courtesy of National Archives and Records Administration, College Park, Maryland
Lajos Ornstein shortly after his liberation from the Mauthausen concentration camp. Budapest, Hungary, 1945. —US Holocaust Memorial Museum, courtesy of Paul and Anna Ornstein
Pál Ornstein (left) and his wife, Anna Brunn Ornstein (second from left), study a lung x-ray with fellow medical students Luisa Schwarzwald and Stephen Hornstein. Heidelberg, Germany, 1949–1950. —US Holocaust Memorial Museum, courtesy of Paul and Anna Ornstein
Studio portrait of Lajos Ornstein taken on the third anniversary of his arrival in Israel. Haifa, Israel, March 19, 1952. —US Holocaust Memorial Museum, courtesy of Paul and Anna Ornstein
January to May 1945: Death March and Liberation
In January 1945, a Communist-led provisional Hungarian government signed an armistice with the Soviet Union. In mid-February, Soviet troops liberated Budapest. Unable to halt the rapid Soviet advance into western Hungary, the Germans and their Hungarian collaborators evacuated almost 20,000 Jewish forced laborers from camps along the Austro-Hungarian border during the last week of March 1945, directing them on foot toward the Mauthausen concentration camp.
Once inside the Reich, German guard units took over the escort of these prisoners, who went without food or water for days and had to spend nights out in the open. The guards, under orders not to permit the prisoners to fall into Soviet hands alive, shot those who tried to escape or who could not continue to march. Survivors testified that guards shot Jews who merely stooped down to defecate or who were begging for food from locals.
Lajos arrived in western Hungary in February 1945, where he was forced to work on an agricultural estate until March 1945. Between March 13 and March 19, 1945, he was likely transported to a labor camp along the Hungarian border with the German Reich, probably in the region of Moschendorf.
In his diary, Lajos records that his column of prisoners left Moschendorf on March 29, 1945, marching through Güssing, Neusiedl, and Deutsch Kaltenbrunn to Bierbaum. At Bierbaum, his group met up with other prisoner groups, including several coming from camps to the south. From Bierbaum the group, which had now swelled to several thousand people, was forced to proceed through Ilz and Gnies to Gleisdorf. Gleisdorf was the assembly point for all evacuation columns before being marched on to Graz, where prisoners were divided and assigned to various camps.
Lajos recorded arriving in Graz on April 2, 1945. After a trek of almost four days, he and other Jewish laborers were given their first meal there. Following a few days of rest, they were marched in three columns on both sides of the Mur River toward the town of Bruck an der Mur. Along the way, the guard units—made up of SA and SS men, police, and members of the so-called Volkssturm (Home Guard)—murdered numerous exhausted prisoners.
Lajos was one of a group of 6,000–8,000 Hungarian Jewish men and women who crossed through Präbichl Pass near Eisenerz on April 7, 1945. Near the peak, Volkssturm men attached to the SA escort fired at random into the marching prisoners, killing more than 200.
Lajos's group continued to march on from Eisenerz via Hieflau, Lainbach, and Grossreifling to St. Gallen and on toward Mauthausen in Upper Austria. Along this stretch, according to survivor testimonies, the guards committed numerous additional murders and acts of brutality, and even some civilian onlookers treated the marchers with particular cruelty.
Lajos arrived at the Mauthausen concentration camp on April 15, 1945. Due to overcrowding, SS authorities housed him and other Jews from the death march initially in a tent camp in Marbach. To make room for thousands of new incoming prisoners, the SS organized marches of Jewish prisoners on April 16, April 26, and April 28 from the tent camp at Mauthausen to the subcamp in Gunskirchen. Lajos was among those who were transferred on April 26.
Exhausted and starving, the group to which Lajos belonged trekked from Mauthausen back to Enns and through Wels to Gunskirchen. The number of victims on this last 34 mile (55 kilometer) stretch of the march was extremely high. On the first 2.5 miles (four kilometers), between Mauthausen and a nearby railroad bridge, the guards shot a reported 800 prisoners. The exact number of victims on this evacuation cannot be determined, but estimates run to 6,000.
The Gunskirchen camp was also overcrowded, and typhoid fever was rampant. When US troops liberated the camp on May 4, most inmates were undernourished and seriously ill. Thousands died a few days or weeks later. Lajos was also near death. He was so weak from weight loss and overexertion that he had to be hospitalized for several months at the 121st (eventually the 28th) US Army Field Hospital, located on the grounds of a former Luftwaffe airfield bordering Hörsching and Neubau. Lajos remained in the field hospital for approximately three months before he had enough strength to return to Budapest in search of surviving family members.
June 1945–1953: Return to Life
Several months before Lajos's liberation at Gunskirchen, Pál emerged from hiding in Budapest. Unaware of any surviving family members, he went to Bucharest, Romania, in the hope of eventually going to Palestine. In Romania, he enrolled in the medical school of the Hungarian university in Kolozsvár (present-day Cluj). After his first semester, however, he learned that his girlfriend, Anna, and his father, Lajos, had both survived, and he returned to Budapest to join them. In Budapest, Pál informed Lajos that his wife, daughter, and three younger sons had not returned from Auschwitz-Birkenau. Lajos and Pál were the only survivors of the immediate family.
Pál brought Lajos and Anna to Kolozsvár, where they regained their strength while he finished the semester at medical school. In August 1945, because they were not Romanian citizens, the Ornsteins had to return to Budapest.
Pál and Anna married in March 1946 at the Rákosszentmihály orphanage in the vicinity of Budapest; in April, accompanied by Lajos and Pál's best friend, Steve Hornstein, they fled Hungary to Vienna. After a month in Vienna, they moved to Germany, where Pál and Steve enrolled as medical students in Munich. They later transferred to Heidelberg, where Anna and Steve's wife, Lucia, also enrolled as students. That same year, Anna's mother, Zsófia Brunn, joined Anna and Pál in Heidelberg. On March 19, 1949, Lajos immigrated to Israel.
Anna and Pál immigrated to the United States on June 29, 1951. Anna returned briefly to Germany in 1952 to complete her medical degree and then settled permanently in the United States. Her mother joined Anna and Pál in the United States in 1953.
Of approximately 825,000 Jews living in Hungary in 1941, roughly 255,000 survived the Holocaust. Lajos Ornstein was one of them.