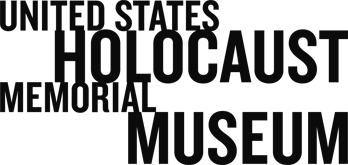 Songs of the ghettos, concentration camps, and World War II partisan outposts
Muselmann—Cigarette Butt Collector (Muselmann—Kippensammler)
Sachsenhausen concentration camp, 1940/43
Lyrics by: Aleksander Kulisiewicz
Music by: adapted from circus tune "Szanghai" and "Zulejka" (M. Oppenheim)
Language: Polish
Performed by Aleksander Kulisiewicz
Muselmänner supplementing their diet (Stefan Horski, 1945). Artist's comment: "candidates for the crematorium (Muselmänner), wanting to live, supplement their diet with refuse."
—USHMM/Kulisiewicz Collection RG-55.022
Stehkommando (Wiktor Siminski, 1947)
—USHMM/Kulisiewicz Collection RG-55.011
Kulisiewicz's self-described "tragic parody" vividly evokes his encounter with a camp Muselmann, an emaciated inmate who had lost the will to live. According to Kulisiewicz, such prisoners were sent to Stehkommando, where they were forced to stand for hours on end in the latrine as punishment for no longer being able to work. Kulisiewicz first sang "Muselmann" for his friends in Cell Block 65 toward the end of July 1940. (Like Kulisiewicz, the protagonist of "Muselmann" was a political prisoner whose uniform, as noted in the song, was branded with a "red triangle badge.")
Kulisiewicz added further verses during the fall of 1943, after hundreds of Italian prisoners had been transported to Sachsenhausen. In performance, Kulisiewicz dramatized the song with a bizarre would-be "Muselmann dance," improvising on wobbly legs a one-step, a Lambeth Walk, and a boisterous "Cossack dance." As he relates:

The scene was intended to look pitiful. At hop, hop! hi-ho!, the madness became more pronounced: knee-bends, flapping elbows, high-pitched squeals of yippee, yahoo! At the words I'm dancing!, a Muselmann-like oblivion was depicted by an angelically idiotic expression that suddenly contracted into a look of utter despair. The singer then returned to the pandemonium of the camp: a Muselmann slowly sinking from a crouch to a kneeling position, head hung as if severed, a sob caught in his throat. For the finale, he stopped moving entirely, as if unconscious.
Listen to