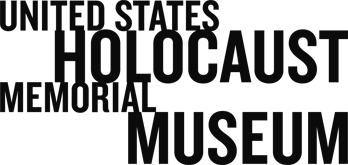 Songs of the ghettos, concentration camps, and World War II partisan outposts
It's Cold, Sir! (Zimno, panie!)
Sachsenhausen concentration camp, 1944
Lyrics by: Aleksander Kulisiewicz
Music by: Camp adaptation of an unidentified tune
Language: Polish
Performed by Aleksander Kulisiewicz
"It's cold, Sir. There's no bread." (Wiktor Siminski, ca. 1947). Artist Siminski had known Kulisiewicz at Sachsenhausen and, at his urging, sketched several scenes of camp life from memory soon after the war.
—Hachiro Sakanishi, Ecce Homo (Tokyo, 1972). All rights reserved.
In Sachsenhausen, a number of upper-class Poles sought to preserve their social advantages by courting favors from the camp command. Kulisiewicz rebukes two such prisoners—"Lulusinski" and the "Count"—in this brief song from 1944. Both "aristocrats" had betrayed members of the Polish Communist underground to the Reich Criminal Police Office, leading to the arrest of several inmates. In turn, other camp elites denounced Kulisiewicz to the authorities for writing and performing his derisive song. He was removed from his barrack in the middle of the night in February, 1945, and interrogated by the SS Police. The "Beggars Block" named in the song's first line was camp slang for an enormous barrack housing 600-800 prisoners.
Listen to