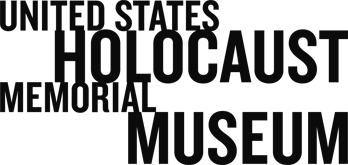 Offenbach Archival Depot: Establishment and Operation
Personal Reminiscences of the Offenbach Archival Depot, 1946–1949
Fulfilling International and Moral Obligations
Colonel Seymour J. Pomrenze
November 30, 1998
I am delighted to share my experiences as Director of the Offenbach Archival Depot from March to May 1946 as part of the U.S. Holocaust Memorial Museum's online exhibition investigating the identification and restitution of Holocaust-era libraries and archives. This exhibit is of timely significance as its launch coincides with the Washington Conference on Holocaust-Era Assets, November 30-December 3. And most importantly, this exhibition is a proper tribute to the many men and women involved in restitution efforts at the Offenbach Archival Depot.
Introduction
In late February 1946, my colleague First Lieutenant Leslie I. Poste, a Library and Archives specialist, drove me through a blinding snowstorm to Offenbach. En route, Lt. Poste briefed me on the Offenbach Collection Point's origins, his role in selecting a building within the I.G. Farben complex on the Main River, and his concern that restitution operations be expedited in accordance with military regulations. Since its establishment in July 1945, the operation had yet to restitute any materials.
Lt. Poste also reviewed the operations of Hitler's Einsatzstab Reichsleiter Rosenberg (ERR) and its educational branch the Institut zur Erforschung der Judenfrage (Institute to Research the Jewish Question). The ERR, backed by German military forces, had traced Jewish, Masonic, Socialist, and other anti-Nazi cultural objects throughout Germany and Nazi-occupied Europe and had deposited them in many places, especially in Frankfurt am Main in the Rothschild Library, Hungen and Hirzenhain in Hesse, and all over Bavaria. The ERR targets ranged from occupied Ukraine to the French-Spanish border and from Greece to the British Isle of Man. The ERR even raided Italy, an axis power. After Kristallnacht, the ERR collected items to save and use them for Nazism.
Lt. Poste also described the U.S. combat and occupation operations to protect and restitute the looted collections. He and other Museums Fine Arts and Archives personnel felt the collections at the Rothschild Library and other places should be moved to a single large, secure facility. The I.G. Farben building at Offenbach was their site of choice.
First Impressions of Offenbach
My first impressions of the Offenbach Collecting Point were overwhelming and amazing at once. As I stood before a seemingly endless sea of crates and books, I thought what a horrible mess! What could I do with all these materials? How could I carry out my assignment successfully? Beyond the mess, however, was an even larger mission. Indeed, the only action possible was to return the items to their owners as quickly as possible.
The Offenbach Collecting Point was housed in well-guarded five-story concrete building suitable for use as a warehouse following repairs. Inside, however, there were only six or seven Germans, headed by an U.S. civilian with displaced person status, who did very little. Many crates, packages, stacks, and loose piles covered several floors. Clearly, the operation was not being run effectively. My mission was to revive this organization in order to accomplish my mission successfully. Hence I launched the following actions.
The Offenbach Archival Depot
The Offenbach Archival Depot was officially established under military directive, in conjunction with Monuments, Fine Arts and Archives Wiesbaden, on March 2, 1946. As Director of the Offenbach Archival Depot (OAD), I received extensive authority and broad mission responsibilities within Greater Hesse. The operation's new designation indicated my function as archivist. Archival principles, such as restoration of the original order, were crucial at this stage. As part of the directive, an organization chart served as a blueprint for action by three branch chiefs responsible for administrative, operations, and liaisons, respectively.
The OAD needed many hardworking personnel, and requested about 50 people a week throughout March 1946 from the local German employment office. By March 28, the OAD had nearly 180 employees. Good working conditions were essential. Heat, light, clean floors, repaired windows, and heavy-duty shelves were provided. U.S. sources requisitioned and supplied enough coal and gasoline. And the large OAD maintenance staff - about 30 - did an excellent job of ensuring a pleasant working environment in the depot.
The I.G. Farben complex had security staff on site, as did the OAD. Together, security watched employees for theft items, particularly small books that were easy to hide. Some thefts did occur - some were detected, others were not. Spot checks of OAD employees were also conducted. Some staff members were even strip-searched. Moreover, internal telephones on each floor were activated through an OAD switchboard.
Sorting, Identifying, Preserving
The OAD received tons of materials from Frankfurt, Hirzenhain, Hungen, and many other German locations. By March 25, 1946, the OAD had processed - received and/or shipped - over 1.8 million items contained in 2,351 crates, stacks, packages, and piles.
Crates, stacks, packages, and piles bearing some indication of the country of origin were spot checked and set inside pending restitution claims. Following some classification by country and by language, the semi-identifiable piles awaited further processing. The unidentifiable books and other materials were left alone until an opportunity arose for careful study by competent persons - professionals like Professor Pinson, Chaplain Isaiah Rackovsky, Rabbi Maurice Liber, Dr. Gershom Scholem, Lucy Dawidowitcz, and knowledgeable displaced person volunteers. Much thought was given to improving and expediting the identification process. My successor, Captain Isaac Bencowitz, who began to intern at Offenbach in April 1946, designed a somewhat unique system, which I called the "Bencowitz sorting system," identifying books from ex libris bookplates or stamps found inside book jackets.
Many books and documents required care and preservation as a result of mishandling, damage during transit, water, mold, and neglect. The OAD did not possess any equipment or materials for care and preservation. Luckily, I learned that one of the employees - a former monk - had worked with documents at a religious order. I assigned him to devise homemade care and preservation techniques. One method he used for drying wet books and documents involved hanging them from clothespins and applying extra heat. The technique worked very well.
Restitution
What did the OAD accomplish? As of August 1947 some 2,000,000 books and other identifiable materials had been restituted and distributed. I am proud - at this late state - to relate to you that the United States restituted well over 93 percent of the Nazi-looted materials. Five countries - Germany (Berlin), the Netherlands, France, the USSR, and Italy received the following quantities of materials: Germany (Berlin), 700,000; The Netherlands, 329,000; France, 328,000; the USSR, 232,000; and Italy, 225,000.
In addition to items restituted to governments, the YIVO Institute for Jewish Research with worldwide headquarters in New York received 92,000 items. Under direction of the U.S. State Department, I supervised the return of these materials to the United States in June 1947. The American Jewish Joint Distribution Committee distributed, on loan, of 24,000 books to the Displaced Persons; and the Library of Congress Mission received some 20,000 books. German institutions other than the Preussisches Staatsbibliothek received 50,000 items; Poland 25,000; and Belgium, Czechoslovakia, United Kingdom, Greece, Hungary, and Yugoslavia each received less than 10,000 items.
OAD History
Both Isaac Bencowitz and I understood Offenbach's importance and the need for an historical record of its activities. We wrote detailed, factual monthly reports. We prepared pictorial albums - I did the first one, and Bencowitz did three others. We saved correspondence relating to OAD operations, including liaison relationships. These items are on deposit in over 20 archival boxes in the U.S. National Archives in Washington, D.C. as well as deposited with Yad Vashem in Israel.
Bencowitz also recorded his experiences in his diary, from which I share an eloquent entry describing the signification of Offenbach's history:
I would walk into the loose document room to take a look at the things there and find it impossible to tear myself away from the fascinating piles of letters, folders, and little personal bundles. Not that what you held in your hand was so engrossing, but rather what the next intriguing item might be. Or, in the sorting room, I would come upon a box of books which the sorters had brought together, like scattered sheep into one fold - books from a library which once had been in some distant town in Poland, or an extinct Yeshiva. There was something sad and mournful about these volumes…as if they were whispering a tale of yearning and hope since obliterated… I would find myself straightening out these books and arranging them in the boxes with a personal sense of tenderness as if they had belonged to someone dear to me, someone recently deceased.
After Offenbach
I returned to Offenbach in 1947 on assignment for the Library of Congress Mission to arrange the transfer to New York of the vast YIVO archives. Later, I briefly participated in restituting the Collegio Rabbinico de Firenze's historic library, including the incunabula, to Italy. I have remained involved in restitution efforts throughout most of my military service, primarily as the U.S. Department of Defense Representative to the U.S. Interagency Committee on Captured ("Seized") Records and other restitution-related assignments. I worked with German representatives of Konrad Adenauer to return German military records. I also participated briefly in the transfer of the U.S. Army Berlin Documents Center to the State Department, which have been turned over to the German government.
In retrospect, Offenbach proved to be a most unusual and challenging assignment - a high point in my 35 years of military and civilian service. Offenbach was a very unusual part of what I call the "cultural Holocaust." Participating at Offenbach on the greatest book restitution in history now seems truly providential. I share Lt. Poste's sentiments that,
Facts and figures on the Offenbach Archival Depot fail to reveal the intensely moving story of this phase of restitution activity. Through the depot passed the remnants of age-old cultures, and particularly of a culture which survived despite the vicissitudes of interminable persecutions and periodic massacres. These books and objects were what was left of the hundreds of Jewish institutions of learning, of Jewish communities, wiped out by the Holocaust. Few can fathom the depth of the Jewish tragedy of which remnants stood as a sad memorial.
Conclusion and Outlook
In closing, I am inspired by actions of the international community to convene at the Washington Conference on Holocaust-Era Assets to resolve lingering issues of restitution and archival access. To this end, I support and encourage efforts to identify items improperly restituted, and to negotiate with rightful owners for redistribution of such materials. In addition, I recommend governments and institutions examine and report the fate of restituted materials as well as prepare inventories and provide access to archival materials restituted vis-à-vis Offenbach.
It is at this exciting moment in history, that silent archives where facts have gathered dust and awaited the avenging moment of their revelation may at long last find voice.
List of Documents
OAD Monthly Report - March 31, 1946 (Captain S.J. Pomrenze) Cite: NARA II RG 260 390/45/22/06 Box 259 (PDF)
OAD Monthly Report - April 30, 1946 (Captain S.J. Pomrenze) Cite: NARA II RG 260 390/45/22/06 Box 259 (PDF)
OAD Monthly Report - May 31, 1946 (Captain S.J. Pomrenze) Cite: NARA II RG 260 390/45/22/06 Box 259 (PDF)
OAD Monthly Report - June 30, 1946 (Captain S.J. Pomrenze) Cite: NARA II RG 260 390/45/22/06 Box 259 (PDF)
OAD Monthly Report - July 31, 1946 (Captain I. Bencowitz) Cite: NARA II RG 260 390/45/22/06 Box 259 (PDF)
OAD Monthly Report - August 1946 (Captain I. Bencowitz) Cite: NARA II RG 260 390/45/22/06 Box 260 (PDF)
OAD Monthly Report - September 1946 (Captain I. Bencowitz) Cite: NARA II RG 260 390/45/22/06 Box 260 (PDF)
OAD Monthly Report - October 1946 (Captain I. Bencowitz) Cite: NARA II RG 260 390/45/22/06 Box 260 (PDF)