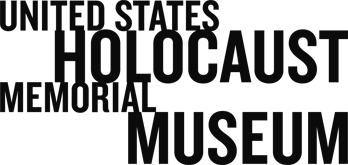 The Ornstein Family Experience: After the German Occupation of Hungary
The Ornstein Family Experience: After the German Occupation of Hungary
Hungarian Jews on their way to the gas chambers. Auschwitz-Birkenau, Poland, May 1944. —Yad Vashem Photo Archives
The barracks in a forced labor camp in Hajdúhadház, Hungary. Just prior to the mass deportation of Hungary's Jews, the Hungarian ministry of defense mobilized several thousand Jewish men for labor service. March 1944–October 1944. —US Holocaust Memorial Museum, courtesy of John Gerrard
Members of a Jewish forced labor battalion work at a construction site building a railroad spur. Hajdúhadház, Hungary, March 1944–October 1944. —US Holocaust Memorial Museum, courtesy of John Gerrard
Members of a Jewish forced labor battalion toil at a construction site. Hajdúhadház, Hungary, March–October 1944. —US Holocaust Memorial Museum, courtesy of John Gerrard
Members of a Jewish forced labor battalion gather on a snowy hill outside of Hajdúhadház. Hungary, March–October 1944. —US Holocaust Memorial Museum, courtesy of John Gerrard
Hungarian authorities deport Jews from the Jozsefvarosi train station in Budapest. Hungary, November 1944. —Thomas Veres
Hungarian gendarmerie round up Jews in Budapest and march them toward Hegyeshalom at the Austrian border. Hungary, November 1944. —US Holocaust Memorial Museum, courtesy of Beit Lohamei Haghetaot (Ghetto Fighters' House Museum)
Victims of a death march from Budapest to the Austrian border. Hungary, November 1944. —US Holocaust Memorial Museum, courtesy of Yad Vashem Photo Archives
1944: Hungary under German Occupation
After the German defeat at Stalingrad, Miklós Horthy, the Hungarian head of state, and Miklós Kállay, the minister president, recognized that Germany would likely lose the war. With Horthy's tacit approval, Kállay sought to negotiate a separate armistice for Hungary with the western Allies. To forestall these efforts, German forces occupied Hungary on March 19, 1944. The Germans permitted Horthy to remain head of state but installed Döme Sztójay, the former ambassador to Berlin and a willing tool of German policy, as minister president.
Ghettoization of Hungarian Jews
By the end of April 1944, Hungarian authorities had planned and organized the concentration of Hungarian Jews living outside Budapest (up to 500,000 people) into holding pens, often called ghettos and located in cities that were county seats or on major railroad lines. In some cases, the so-called ghetto encompassed a former Jewish neighborhood. In other cities, the concentration area was merely a single building, such as a factory. The Hungarian gendarmerie emptied all of these holding pens within a few days or at most a few weeks of their establishment, deporting most of the inhabitants to Auschwitz-Birkenau.
In mid-May, Hungarian gendarmes concentrated the Jews of Hajdúnánás—including Lajos's wife, Frida, and their sons Zoltán, Tibor, and László—in the town synagogue and a few nearby buildings. Within days this area was closed off, encircled with 6.5-foot-tall (two-meter-high) wooden planks and guarded along the perimeters by local policemen. In contrast to the extreme brutality with which the Hungarian gendarmerie treated Jews concentrated at other locations in Hungary, the Hajdúnánás Jews were treated relatively humanely. Jewish police officials, recruited from military veterans and younger members of the community, maintained internal order.
Deportation of Hungarian Jews
On May 15, 1944, Hungarian authorities, at the request of the German Security Police, began to systematically deport Hungarian Jews.
Just prior to these mass deportations, the Hungarian ministry of defense mobilized several thousand more Jewish men for the Hungarian labor service, and while their family was still in the Hajdúnánás ghetto, both Lajos and Pál were conscripted as forced laborers in different companies.
Hungarian gendarmerie units commenced deportations from Hajdú County on June 16. After stripping them of their valuables on June 17, local police moved the Jews in Hajdúnánás, including the Ornstein family, to the Serly brickyard in the outskirts of Debrecen. There they joined Jews from neighboring communities and from the so-called ghetto in Debrecen. When Hungarian authorities began deportations from the brickyard, there were 13,084 Jews imprisoned there. Four deportation trains departed between June 25 and June 29. At the request of German authorities, the trains that departed Debrecen on June 26 and June 27 took Jews to Strasshof on the Austro-Hungarian border to deploy them at forced labor. Many of these Jews survived the war.
The others were deported from Debrecen to Auschwitz-Birkenau where camp authorities killed the majority—primarily elderly people, the sick, women, and children—upon arrival. Lajos's wife and three youngest sons were almost certainly among this group. Within days of the deportation, Lajos received a postcard from his son Zoltán, thrown from a deportation train and dated June 25, 1944. On it, he had written that the train was headed for Kassa (the Hungarian name for Kosice, Slovakia). The card was postmarked from Kisvárda in northeastern Hungary, where it was most likely found and mailed by a bystander. From Kosice, the train continued to Auschwitz-Birkenau where, following selection, most of the passengers were killed in the gas chambers.
In less than two months, approximately 440,000 Jews were deported from Hungary in 147 trains, primarily to Auschwitz-Birkenau. By mid-July 1944, only the Jewish communities in Budapest, where Lajos's daughter was living, were still intact. Hungarian authorities forced the Jews in Budapest to live in some 2,000 designated buildings throughout the city but never deported them to Auschwitz.
Forced Labor in Hungary
Unlike during his earlier conscription, this time Lajos was a forced laborer without rank. In summer 1944, he was deployed in eastern Hungary in Hajdú County and near Békéscsaba.
Pál's labor service company deployed west of the Danube to build an airfield at Várpalota. After about a month, Hungarian military authorities transferred him to the Russian front near Stanisławów, Poland (present-day Ivano-Frankivsk, Ukraine). There he dug ditches and was on one occasion nearly shot by antisemitic Hungarian soldiers.
In August 1944, Miklós Horthy dismissed Döme Sztójay as minister president and resumed efforts to reach an armistice, now with the Soviet Union, whose troops were advancing into Hungary. In late August and early September, Romania and Bulgaria (former allies of the Germans) switched sides and declared war on Germany, and it appeared that Hungary would do the same.
Both the Soviets and the Allies had been subjecting Hungary to relentless bombing since April 1944. The United States Air Force bombed Budapest on July 2, 1944, specifically as retaliation for Hungary's failure to heed US demands to halt the deportation of Jews. On September 21–22, 1944, Lajos recorded in his diary that he had witnessed air raids over Hajdúszoboszló and Debrecen. One week later, he witnessed the horrific damage inflicted on Debrecen—the result of several weeks of bombing during the summer. Tragically, and unbeknownst to Lajos, his only daughter, Judit, had been killed in a US air raid on Budapest earlier in September.
In October, as the Soviets launched a major offensive in northern Transylvania and eastern Hungary, Hungarian authorities moved Lajos's labor battalion from Debrecen into Hungarian-annexed northern Transylvania, probably to construct fortifications for the Hungarian army. He made note in his diary of gunfire coming from the direction of nearby Nagyvárad (present-day Oradea, Romania). His unit soon reversed direction, moving north to Csap (present-day Chop, Ukraine).
As Soviet troops crossed the Carpathian Mountains, and Lajos and his battalion began their long westward forced-march across the length of Hungary, Pál escaped from his labor service company and found his way back into Hungarian territory to the town of Sátoraljaújhely.
On October 15, 1944, as Horthy's representatives negotiated an armistice with the Soviets in Moscow, the Fascist and radical antisemitic Arrow Cross Party, under the leadership of Ferenc Szálasi, carried out a coup d'état with the help of the Germans. Szálasi became head of an Arrow Cross government as the Germans arrested Horthy. The Arrow Cross government resumed the physical persecution of Hungarian Jews. On October 17, 1944, SS deportation specialist Adolf Eichmann returned to Budapest in order to resume the removal of Jews from Hungary, which Horthy had halted in July.
By this time, however, the Soviet advance into Poland had cut the railroad lines from Budapest to Auschwitz-Birkenau. At Auschwitz, prisoners in the Sonderkommando, the unit assigned to work in the vicinity of the gas chambers, had revolted on October 7 and destroyed one of the gas chambers. In early November 1944, Reichsführer (Reich Leader) Heinrich Himmler ordered a halt to killings by gas and the destruction of the killing facilities. However, the Nazi regime still urgently needed workers for armaments production and the construction of defense fortifications. Along the border between Hungary and the German Reich, forced labor was needed for construction of one such project, the so-called Südostwall (Southeastern Wall), a system of anti-tank ditches and heavy fortifications built to halt the advance of Soviet troops on Vienna.
In October 1944, some 200,000 Jews still lived in Budapest, and tens of thousands of Jewish labor servicemen were attached to the Hungarian army. On October 21, the Arrow Cross minister of defense, Károly Beregfy, ordered that every Jewish man aged 16–60 and every Jewish woman aged 16–40 fulfill a military labor service requirement. Over a couple of days, 25,000 men and 10,000 women were taken from Budapest and ordered to work at fortifications in the vicinity of the capital. Then, on October 26, the Hungarian government handed over 70 labor service companies (about 14,000–15,000 people) to the Germans.
Starting the following month, Hungarian authorities herded 50,000–60,000 Hungarian Jews, on foot or by train, to the Reich border and turned them over to the Germans. The Germans used them as forced laborers along the Reich border with Hungary for construction of the Südostwall defenses, where many of the forced laborers would die from starvation, exhaustion, epidemics, or brutality at the hands of their guards.
Hungarian authorities seized Pál and marched him with other Jewish forced laborers to Miskolc and from there to Budapest. Then, they marched the group toward the German border, where many died. Pál managed to escape again and, from October 1944 until Budapest's liberation by the Soviets in February 1945, he lived first at the home of his aunt and uncle and then with Zionist friends in an annex of the Swiss consulate.
As Pál found refuge in Budapest, military commanders moved Lajos and his battalion westward through northern Hungary and Slovakia on a forced march, which lasted several months. The men were put to forced labor at various locations along the way. Lajos later told Pál that, during this march, fellow prisoners from their hometown of Hajdúnánás jumped off a bridge because they could not march any longer; others simply collapsed from fatigue and were shot.