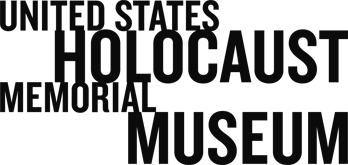 The Ornstein Family Experience: Before the German Occupation of Hungary
The Ornstein Family Experience: Before the German Occupation of Hungary
Lajos Ornstein served as an officer in the Austro-Hungarian army during World War I. Hajdúnánás, Hungary, 1914–19. —US Holocaust Memorial Museum, courtesy of Paul & Anna Ornstein
Laos and his wife, Frida, had five children. Pictured here are (from left) Judit, Tibor, Zoltán, and Pál. Hajdúnánás, Hungary, 1936. —US Holocaust Memorial Museum, courtesy of Paul & Anna Ornstein
Lászlo Ornstein poses with a telephone for a studio portrait less than two years before he was killed in Auschwitz. The original photo inscription reads, "I had called you, dear father, to let you know that your children are waiting for you together with Jutka and Lacika." Hajdúnánás, Hungary, October 23, 1942. —US Holocaust Memorial Museum, courtesy of Paul & Anna Ornstein
Pál Ornstein rode his bicycle more than 60 miles to visit his girlfriend, Anna Brunn, in wartime Hungary. 1943. —US Holocaust Memorial Museum, courtesy of Paul & Anna Ornstein
Pál (left) studied Jewish history and philosophy at a rabbinical seminary in Budapest before he was conscripted into forced labor. 1940–43. —US Holocaust Memorial Museum, courtesy of Paul & Anna Ornstein
Before 1938
Born in 1896, Lajos Ornstein grew up in a period sometimes referred to as a "Golden Age" for Hungarian Jews. From the end of the 19th century to World War I, Hungarian authorities welcomed Jewish assimilation into Hungarian culture, and most Jews residing in Greater Hungary supported Magyar rule.
The Ornstein family was religiously observant, but Lajos received a secular education in addition to his religious schooling. His family spoke Hungarian rather than Yiddish at home.
After serving as an officer for the Austro-Hungarian army in World War I, Lajos married Frida Cziment, and settled in Hajdúnánás, Hungary, where they would raise five children—Pál, Judit, Zoltán, Tibor, and Lászlo. According to the 1941 census, Hajdúnánás had a population of 18,770. Nearly six percent (1,080 residents, or about 250 families) were Jewish, almost all of them Orthodox. Hajdúnánás was home to the second largest Jewish community in Hajdú County after the county seat, Debrecen.
Lajos founded a bank, but he was financially ruined in the 1929 market crash. He then became an accountant and tax advisor for a flour mill. He was also an ardent Zionist, which became a source of conflict between him and members of the community who opposed Zionism for religious and nationalist reasons.
1938–1941: Discrimination
Between 1938 and 1942, the Hungarian parliament passed several anti-Jewish laws. The first two, in 1938 and 1939, primarily targeted the economic and social positions of citizens defined as Jewish (initially according to religious criteria, but from 1939 onward according to so-called racial criteria). The laws excluded Jews from civil service positions and barred them from practicing various professions. Jews were also excluded from access to higher education. In 1941, a "race protection law," modeled on Nazi Germany's Nuremberg Race Laws, forbade intermarriage and criminalized sexual relations between Jews and non-Jews. Implementation of the anti-Jewish laws cost tens of thousands of Hungarian Jews their jobs and undermined economic security and peace of mind in Jewish communities.
As a result of these anti-Jewish laws, Lajos had to switch professions once again; he became a secretary to the local Jewish community administration. His eldest son, Pál, helped support the family by tutoring younger children. Pál had attended a secular elementary school and cheder (a traditional Jewish religious school), but he was forced to abandon his studies because the anti-Jewish legislation made it impossible for his family to afford to pay for his education. In 1939, Pál left for Budapest to study Jewish history and philosophy in the Neolog (Reformed) rabbinical seminary, while working to support the education of his younger brothers at a Jewish school in Debrecen. Pál's sister, Judit, joined him in Budapest and enrolled in a program to train as a dental technician.
1941–1944: Hungary Enters the War
When Hungary entered World War II in 1941, Jews were prohibited from serving as soldiers in the armed forces. Hungarian authorities deployed all Jewish conscripts—approximately 100,000 men organized in labor service battalions and companies—under the command of Hungarian military officers, on war-related construction work, often under brutal conditions. Subjected to extreme cold and without adequate shelter, food, or medical care, at least 27,000 Hungarian Jewish forced laborers died before the German occupation of Hungary in March 1944.
In summer 1941, at age 45, Lajos was conscripted into a Hungarian labor service company. As a former World War I officer decorated with a silver medal, he donned a military uniform and served as deputy commander for the company stationed outside Ungvár (present-day Uzhhorod, Ukraine), a major city in the Czechoslovak province of Sub-Carpathian Rus, which Hungary had annexed in 1939. After eight to ten months of service, Lajos was discharged.
Also during summer 1941, Hungarian authorities expelled some 15,000 Jews, most of them residents of Sub-Carpathian Rus whom the new laws had barred from obtaining Hungarian citizenship. Others were refugees who had escaped to Hungary from German-occupied Poland, German-occupied Ukraine, and Romania. Among those expelled were a number of people from other parts of Hungary, including Hajdúnánás. Hungarian military units forced these Jews across the border into German-occupied Ukraine. They were among 23,000 Jews shot by German SS and police units near Kamenets-Podolski at the end of August 1941.
Despite expelling non-citizens, passing antisemitic legislation, and pursuing policies discriminatory toward Jews, the government of Minister President Miklós Kállay, which came to power in January 1942, resisted pressure from the populist Hungarian radical right and rejected German requests and eventual demands to deport Hungarian Jews into German custody.