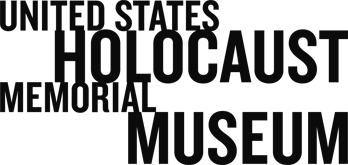 Music of the Holocaust
Music was heard in many ghettos, concentration camps, and partisan outposts of Nazi-controlled Europe. While popular songs dating from before the war remained attractive as escapist fare, the ghetto, camp, and partisan settings also gave rise to a repertoire of new works. These included topical songs inspired by the latest gossip and news, and songs of personal expression that often concerned the loss of family and home.
Classical music—instrumental works, art songs, opera—was also produced and performed during this period, notably by prisoners at the Theresienstadt (Terezín) ghetto and transit camp in Czechoslovakia, as well as in several other ghettos and camps.
For many victims of Nazi brutality, music was an important means of preserving and asserting their humanity. Such music—particularly the topical songs—also serves as a form of historical documentation. Like "audio snapshots," these works offer a telling glimpse into the events and emotions that their creators and original audiences experienced firsthand.
Contents
Ghetto Songs
A topical song about food smuggling in the Kovno ghetto, By the Ghetto Gate draws on the melody of the much-loved "Yiddish alphabet song," Oyfn pripetshik (At the Hearth). Lyricist Avrom Akselrod, a refugee who had fled Poland at the start of World War II, wrote a number of parodic verses in the ghetto. He was killed in July 1944, when German militiamen set fire to his underground hiding place.

In the Vilna ghetto, educator Rakhele Pupko-Krinski and poet Shmerke Kaczerginski were members of the "Paper Brigade"—a group of intellectuals who risked their lives to conceal Vilna's Judaic treasures from Nazi vandals. After learning that Pupko-Krinski had hidden her child, Sarah, outside of the ghetto, Kaczerginski wrote The Lonely Child as a tribute to Sarah and all Jewish children who had been forced into hiding by the war. The poem was set to music by composer Yankl Krimski, a theater artist who is believed to have been murdered in an Estonian labor camp toward the end of the war. Pupko-Krinski's sympathetic Polish housekeeper, Wiktoria Rodziewicz, raised Sarah as her own. Fearing betrayal by acquaintances, Rodziewicz eventually moved to a nearby village where she could live in relative safety. After years spent in the ghetto and several labor camps, Pupko-Krinski reunited with her daughter, who no longer remembered her. Kaczerginski recorded the song in a displaced persons camp in Bavaria ca. 1946, dedicating his performance to Sarah and Rakhele. Some 50 years later, Sarah heard this recording for the first time while visiting the United States Holocaust Memorial Museum's Wexner Learning Center.

Frieda Bursztyn Radasky learned There Lies Treblinka in 1943 while working in the kitchen at a coal depot in the Praga district of Warsaw, outside the ghetto area. The kitchen workers, mostly young women, witnessed countless Jews being deported from the ghetto. Many deportees believed the Nazi propaganda that the trains were headed to work camps, where survival was possible. Radasky and her coworkers knew the trains led to death camps. There Lies Treblinka was their way of acknowledging the horrible truth. According to Radasky, There Lies Treblinka was written over a period of time with each worker contributing to the lyrics. The song survives in a number of variant forms; Radasky recorded her version around 1990 during an oral history session with her daughter, whose voice can occasionally be heard on the recording.

Given the proper conditions, theater and music could flourish in the ghettos, where talented individuals, crowded together with little meaningful work to do, might be called on to entertain a captive audience. Established in January 1942, the Vilna ghetto theater mounted productions of Yiddish and European classics as well as original plays and revues based on ghetto themes. The novelty song Yisrolik, about a tough but sentimental child entrepreneur, was created by writer Leyb Rozental (1916–1945) and composer-conductor Misha Veksler (1907–1943) especially for performance in the ghetto theater. It was introduced by Rozental's sister, Chayela (1924–1979), who went on to a successful postwar career as a stage actress in South Africa and on Broadway. She recorded Yisrolik in Paris, ca. 1948. Chayela took to heart Yisrolik's admonition "not to speak of sadness" (in the song's last verse), and never discussed her wartime experiences with her children. The theme of her mother's silence was treated by Chayela's daughter, Naava Piatka, in her own musical play, Better Don't Talk.
Music in Theresienstadt
Gideon Klein (born December 6, 1919, in Prerov, Moravia) was a prize-winning student at the Prague Conservatory when the German occupation of Czechoslovakia forced an end to his studies. With the advent of Nazi laws barring Jews from many professions, Klein's career as a pianist also ended, although he managed to perform under an alias for a time. In December 1941, Klein was sent to Theresienstadt (Terezín), near Prague, and assigned to a hard labor brigade. Theresienstadt was an exception within the Nazi system, a "model ghetto" where for propaganda purposes the Germans allowed prisoners a relatively open and varied cultural life. Klein, stimulated by the presence of artists and intellectuals from all over occupied Europe, thrived for a while in this setting. Placed in charge of chamber music activities by the ghetto's Freizeitgestaltung (Leisure-Time Authority), he turned his energies toward organizing concerts, performing, teaching, and composing. Klein left Theresienstadt on a transport to Auschwitz in October 1944. He passed the selection process and was subsequently sent to the labor camp at Fürstengrube, where he died in January 1945. About a dozen of Klein's Terezín compositions and arrangements survived the war. Of these, the brief choral piece "Spruch" (Verdict) has come to light only relatively recently. Written for and dedicated to Freizeitgestaltung Chairman Moritz Henschel on the occasion of his 65th birthday (February 21, 1944), the manuscript was preserved among Henschel's papers. Together with other related documents and memorabilia, it now forms part of the United States Holocaust Memorial Museum Givol Collection in Memory of Moritz and Hildegard Henschel.
Music of Protest
English composer Michael Tippett (1905–1997), a committed pacifist, conceived the oratorio A Child of Our Time after he learned of the November 1938 Kristallnacht (Night of Broken Glass) pogrom in Germany and Austria. Wishing to communicate a universal message of tolerance, Tippett omitted any reference to current events in his libretto. He drew musical inspiration from baroque-era composers Bach and Handel and from African American spirituals. A Child of Our Time, named after a novel by anti-Nazi writer Odon von Horwath, was completed in 1941 and first performed in London in March 1944. The excerpted passage below occurs at the beginning of Part II: A star rises in mid-winter. Behold the man! Behold the man! The scape-goat! The scape-goat! The child of our time.

Mordecai Gebirtig, born in Krakow in 1877, made his living as a carpenter but was celebrated throughout the Yiddish-speaking world as a folk poet and songwriter—the "troubadour of the Jewish people." During World War II, he continued to write and perform, using the medium of song to chronicle his experiences under the German occupation. In June 1942, Gebirtig, age 65, was shot and killed by German soldiers when he refused to comply with a deportation order. Gebirtig wrote Our Town is Burning in response to a 1936 pogrom in the Polish town of Przytyk. In retrospect, the song seems prophetic of the Holocaust, but Gebirtig had hoped its message ("Don't stand there, brothers, douse the fire!") would be heard as an urgent call to action. He was reportedly gratified to learn, during the war, that rakow's underground Jewish resistance had adopted Our Town is Burning as its anthem. The song Our Town is Burning remains a popular recital piece that is performed at Holocaust commemoration ceremonies around the world.
Partisan Songs
Strange and wonderful is the picture before me: I see heroes made hard as oaks by life in the forest, strong men who wouldn't blink an eye when the time came to kill, slaughter, destroy. And here in the twilight, they turn sentimental as women, and pour their feelings of love and longing into songs they created themselves or had refashioned from pre-war tunes. Vanya sang more passionately than the rest—although many had finer voices. From him, I learned a song that I now sing all the time. I even translated it, with slight changes, into Yiddish. Now our other comrades sing it constantly, too. — Shmerke Kaczerginski, I Was a Partisan "Vanya's song," originally about Soviet partisans, eventually found its way to Palestine where it was popularized as Be-arvot HaNegev (On the Plains of the Negev) during Israel's 1948 War of Independence.

News of the Warsaw ghetto uprising of April 1943 inspired the Vilna poet and underground fighter Hirsh Glik (ca. 1921–ca. 1944) to write Never Say That You Have Reached the Final Road (the Yiddish title is often shortened to Zog nit keynmol). With a melody taken from a march tune composed for the Soviet cinema, the song spread quickly beyond the ghetto walls and was soon adopted as the official anthem of the Jewish partisans. Glik was later deported to an Estonian labor camp and is presumed to have lost his life during an escape attempt. His song remains a favorite at Holocaust commemoration ceremonies worldwide. This early recording of Never Say That You Have Reached the Final Road features vocalist Betty Segal, who later became a well-known Israeli stage and cinema actress. A native of Vilna and a survivor of the Vilna ghetto and several labor camps, Segal recorded Never Say That You Have Reached the Final Road for the Munich Jewish Historical Commission, ca. 1946.
Roma (Gypsies)
Between 1933 and 1945, Roma (Gypsies) suffered greatly as victims of Nazi persecution and mass murder. Building on long-held prejudices, the Nazi regime viewed Gypsies both as "asocials" (outside so-called normal society) and as "racial inferiors"—believed to threaten the biological purity and strength of the "Aryan" majority. During World War II, the Nazis and their collaborators killed up to 220,000 Gypsy men, women, and children across German-occupied Europe. Auschwitz-Birkenau, the largest Nazi killing center, was the site of a special Gypsy "family camp." Established in February 1943, this camp held as many as 20,000 Gypsies, the vast majority of whom died from starvation, disease, medical experimentation, or in the gas chambers. Among historically nomadic peoples such as the Roma, stories, poetry, and song are passed down from one generation to the next by oral tradition. Recently, however, researchers have begun collecting and publishing Holocaust-related folklore from Gypsy survivors and their families. The lament Aušvits (Auschwitz) was first recorded in the 1960s by Ružena Danielová, a survivor from the Czech town of Mutenice, and was later featured in a documentary on Gypsy music, Latcho Drom (Safe Journey). Sung in the Romani language, Aušvits draws on themes common to the repertoire of Roma folk laments, notably the singer's feelings of isolation and despair, and the symbolic image of a dark bird bearing a message from the land of the dead. The Roma ensemble Khanci Dos ("No Problem") was formed in 1987 in Nagyecsed, Hungary. Now based in Budapest, its main goal, according to bandleader Gustav Eros, is "to promote, through music, mutual acceptance and understanding between Hungarian Roma and non-Gypsy Hungarians." Members of Khanci Dos—several of whom lost family during the Holocaust—learned Aušvits from the soundtrack to Latcho Drom.
Songs of Jewish Displaced Persons
The psychologist and teacher David Boder was born in Liyepaya, Russia (present-day Liepaja, Latvia), in 1886. Educated in Leipzig and St. Petersburg, he left Russia in the wake of the Revolution and the Civil War, and after a six-year sojourn in Mexico settled in Chicago, where he completed his doctorate at Northwestern University. Toward the end of World War II, while employed as a psychology professor at the Illinois Institute of Technology, Boder initiated a project to collect testimony from victims of Nazi persecution. Urging that this testimony be documented while still fresh in memory, he also insisted—uniquely for his time—that the survivors tell their stories in their own voices. After months of petitioning and delays, Boder received a small grant and a steel-wire recorder (a precurser of the magnetic tape recorder), and set off for liberated Europe. Between July and October, 1946, Boder recorded 109 interviews in Displaced Persons Camps in France, Germany, Switzerland and Italy. He then returned to the United States, eager to analyze and report on his findings. Yet the book he published in 1949, I Did Not Interview the Dead, never generated much attention from the academy or the general public. In 1952, Boder moved to Los Angeles, continuing his work in semi-obscurity as a research psychologist at UCLA. After his death in 1961, the nearly 200 wire spools of historic testimony Boder had brought back from Europe were neglected, then forgotten. It was only in 1995 that the recordings, long deposited at the Library of Congress, were transferred to tape. The United States Holocaust Memorial Museum obtained its copies in 1998. During interview sessions, Dr. Boder often asked his informants to sing. For him, this was both an important part of documenting a story and a practical means of summoning up associative memories. While song collecting may have been secondary to Boder's larger goal of gathering survivor narratives, his field recordings preserve a number of otherwise unknown songs from the ghettos, concentration camps and Displaced Persons Camps. His recordings—predating by ten years the first oral history projects attempted by Yad Vashem—are among the most immediate and compelling of Holocaust eyewitness testimony, and the songs interspersed among his interviews are a significant addition to the repertoire of music related to the Shoah.

Hirsh Glik, "the partisan poet," created "The Cornstalk" in early 1943 at the Lithuanian forced labor camp Biała-Waka, where he worked mining peat from the surrounding swampland. The song's romantic, optimistic lyrics—while seemingly incongruous—greatly pleased an audience in need of escapist fare. When the Germans shut down Biała-Waka, Glik and other prisoners were sent to the nearby Vilna ghetto, and the song became popular there as well. Stonehill's recording captures a lively performance by an unnamed Yiddish folk duo (a power fluctuation resulted in the loss of a few words from the recording).

Survivors in the displaced persons camps hungered for culture and were eager to restore a sense of normalcy to their lives. Entertainment played an increasingly important role as survivors joined together to form theatrical and musical troupes, some of which toured extensively through the occupied zones of Germany. Born in Lodz, Poland, to a family of professional musicians and trained on violin and saxophone, Henry Baigelman performed with the Lodz Ghetto Orchestra under the direction of his eldest brother Dovid, a noted composer and conductor. After the war, Baigelman, together with seven fellow surviving musicians from Lodz, formed the touring jazz band The Happy Boys. The band was renowned for its lively arrangements and agreeable mixture of prewar hits, light classics, Jewish selections, and original songs about the lives and concerns of Jewish displaced persons. Baigelman and his wife Gita immigrated to the United States in 1949.
Written in Hiding
Born in 1908 in Lemberg, Austria-Hungary (currently L'viv, Ukraine), Joseph Beer studied at the Hochschule für Musik in Vienna. After graduating, he remained in the Austrian capital to conduct a ballet troupe, but soon found his calling in the field of music theater. With the popular success of his first comic operas, Der Prinz Von Schiras (The Prince of Shiraz) and Polnische Hochzeit (The Polish Wedding), Beer, not yet 30, rated among Vienna's most sought-after composers. This promising career, however, was cut short by the German-Austrian Anschluss of 1938, when the works of the "Jew Beer" were banned from performance throughout the Nazi realm. Beer fled first to Paris, then, after the fall of France, to the Mediterranean city of Nice, which was successively under French, Italian, and German military rule during World War II. There, confined to a small apartment and living under a false identity, Beer continued to compose, selling his works—including an entire opera—to other musicians to claim as their own. The money earned from these transactions bought him enough time to survive the war. When Allied forces liberated Nice in late summer 1944, Beer emerged from hiding to learn that his father, mother, and sister had perished at Auschwitz. Embittered by his loss and convinced that former Nazi collaborators remained active in the music business, he refused to cooperate when major venues offered to stage his works. He was, however, willing to facilitate the 1949 Zürich Opera production of Stradella in Venedig (Stradella in Venice), a work he had created with the Jewish Hungarian librettist Laszlo Lakatos while both lived incognito in southern France. (The aria presented here, Weit Draussen im Sonnenglanz, appears in Act I of this operetta.) In his later years, Beer grew increasingly alienated from the artistic community; working in isolation, he wrote new music, obsessively polished his old scores, and earned a doctorate in musicology from the Sorbonne University. His death in Nice on November 23, 1987, was scarcely noted by the music world. More recently, Beer's widow, Hanna, and daughter, Béatrice, a professional opera singer, have sought to make his story and legacy better known by donating a portion of the composer's memorabilia to the U.S. Holocaust Memorial Museum, and through performances of Ms. Beer's concert program A Daughter's Tribute to Her Father's Music.