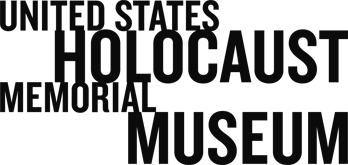 Songs of the ghettos, concentration camps, and World War II partisan outposts
Individuals
Joseph Wulf
Joseph Wulf, identification photograph. Occupied Krakow, August 1940. Detail from registration form, below.
—Jewish Historical Institute, Warsaw
Joseph Wulf's registration form with the local authority in occupied Krakow, August 22, 1940. He lists his occupation as "agronomist."
—Jewish Historical Institute, Warsaw
Joseph Wulf (left) in his study with Simon Wiesenthal. Berlin, July 1974.
—Sachor Nicht vergessen. Erinnerung an Joseph Wulf (Berlin, 1989).
The historian Joseph Wulf was born in Chemnitz, Poland, in 1912, raised in Krakow, and educated in Poland and France. After the German takeover of Poland he was confined to the Krakow ghetto but later escaped and joined the underground resistance. Captured by the Gestapo in 1943, Wulf was sent to the slave labor camp Auschwitz III (Buna-Monowitz) where he helped organize concerts and cultural gatherings to raise the morale of the prisoners. Wulf was liberated on a death march in January 1945 and reunited with his wife and son, who had lived out the war in hiding.

At Auschwitz, Wulf had sworn that should he survive he would dedicate his life to exposing the criminal history of the Third Reich. In Krakow he served as an executive member of the Jewish Historical Commission, gathering and publishing data on German atrocities. He continued this work at the Center for Polish Jewish History in Paris, and as an independent researcher in Berlin, where he settled in 1950. Wulf's major contribution to Holocaust scholarship is his landmark series of "document studies." Launched in 1955 with Das Dritte Reich und die Juden (The Third Reich and the Jews; written with Leon Poliakov), the series explored the impact of Nazi ideology and policies on a range of subjects, including literature, theater, film, music, and art. For many years Wulf campaigned to establish a documentation center at Wannsee Villa, near Berlin, where Nazi leaders convened in 1942 to plot the "Final Solution," the extermination of Jewish life and culture in Europe. Few German officials were ready to support Wulf's forward-looking project, however, and in 1974, succumbing to despair, he took his own life. Wulf's vision of a memorial at Wannsee was finally realized in 1992 with the opening of the Wannsee Conference Memorial and Educational Site; its library has been named in his honor.

Between October 1966 and February 1967, Wulf, accompanied by pianist Friedrich Scholz, recorded nine songs at a theater auditorium in West Berlin. These include a work by Yiddish folk poet Mordecai Gebirtig, whom Wulf had known in Krakow, and two chasidic melodies. Wulf also recorded two songs by Polish composer Jakub Weingarten, little of whose music has survived, and two songs he himself had written and performed at Auschwitz III.
Listen to