Start of Main Content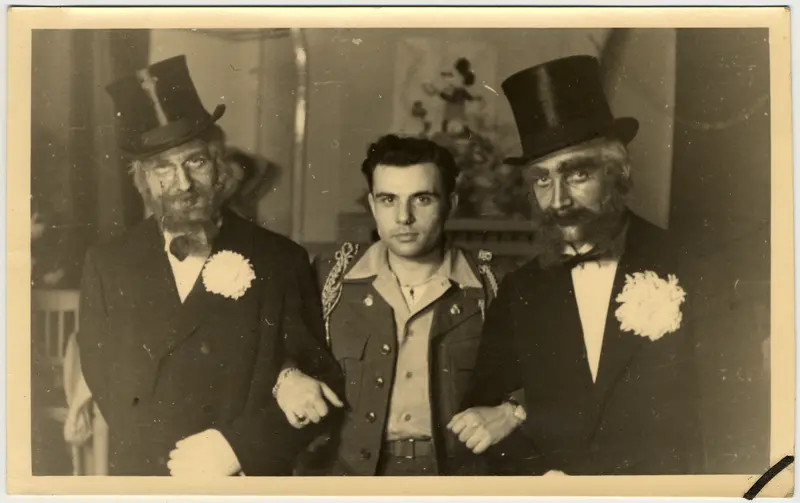 Born: March 1, 1922, Berlin, Germany
Died: December 28, 2018, Gaithersburg, MD
Robert "Bob" Behr was born on March 1, 1922 in Berlin, Germany to Alfred and Lilly Welsch Behr. Alfred was a commercial real estate agent and Lilly managed their household. Robert's parents divorced when he was young, and his mother remarried a physician, Dr. Alfred Hamburger. Robert lived with his mother and stepfather, seeing his biological father infrequently. Both Robert's father and stepfather were World War I veterans, and, along with his mother, staunch German patriots. 
Following the Nazi assumption of power in January 1933, the new regime began to implement antisemitic policies and laws. In 1935, the Nuremberg Laws stripped German Jews of their rights of citizenship. By denying their Germanness, this act of exclusion hurt Robert's patriotic parents deeply. The laws also forbade Jews from employing in their households non-Jewish German women under 45 years old. Robert's beloved nanny, Betty Hauck, had to stop working for them.
Jewish children were excluded from many schools, and eventually banned from public school altogether. In the mid-1930s, Robert was forced to leave his boarding school in Germany because he was Jewish. In the late 1930s, he was fortunate to be able to attend a German-Jewish boarding school in Sweden until the Nazi government restricted the exchange of German currency into Swedish Kroners. The German families could no longer pay tuition, forcing the school to close. The Swedish Jewish community offered to keep the children in Stockholm until it was safe to return to Germany, but Robert's mother insisted that he return to Berlin.
In June 1938, the Nazis carried out a wave of arrests targeting people who were supposedly "workshy" and criminals. They targeted Jewish men. Robert's biological father was arrested and sent to Buchenwald concentration camp. He was released and left for Cuba before immigrating to the United States. Robert also hoped to leave for the United States but could not secure an affidavit. 
On November 29, 1938, Robert, his mother, and stepfather were evicted from their apartment. With help from the Jewish Community Service, they found two rooms in an elderly Jewish woman's apartment. Robert and his family are required to perform forced labor in Berlin.
The family remained in Berlin until summer 1942 when Lilly was arrested by the Gestapo after helping a friend escape to neutral Switzerland. Robert was arrested two days later and interrogated and beaten. On August 11, 1942, Lilly, Alfred, and Robert were deported to the Theresienstadt ghetto. Certain groups of Jews (including the elderly) were deported to Theresienstadt. Most of their fellow deportees were elderly Jews. Robert's stepfather was a decorated World War I veteran, which ensured their destination was Thereisenstadt, rather than a killing center or killing site. There, Lilly worked in the laundry and Dr. Hamburger in the hospital. Robert's first forced labor assignment required him to transport corpses for burial. He was later placed on a road crew laying railroad tracks to and from the camp until a Czech Jewish friend found him work in the camp's kitchen.
The German authorities regularly deported  prisoners from the Theresienstadt ghetto to Auschwitz and other camps. Decorated World War I veterans were initially exempt, but Robert still feared they would be deported. To protect his mother and stepfather from deportation in early 1944, Robert volunteered for a special work detail. He was among the several hundred Jewish prisoners from Theresienstadt sent to Wulkow, a subcamp of Sachsenhausen, to construct a new complex for the Reich Security Main Office (RSHA), including a special Gestapo office. Supply problems stalled their work. In order to keep the prisoners busy, they were given buckets and brushes and told to wash the trees. They returned to Theresienstadt in early 1945, and Robert was reunited with his parents. He worked in the camp kitchen until the end of the war.
In 1947, Robert immigrated to the United States. He hoped to reunite with his biological father, but unfortunately he passed away shortly before Robert arrived. In the United States, he went to Dallas, where he enlisted in the United States Army, hoping to be assigned to Berlin so he could care for his mother who chose to remain in the city. His German language fluency secured him a transfer to Berlin where he interrogated former Nazi personnel. Robert left the Army in 1952 and joined the United States Air Force civil service in Dayton, Ohio working as an intelligence officer. He retired in 1988 after 39 years of government service. Robert earned both a Bachelors and a Masters degree in Modern European History and became an adjunct professor at Sinclair College. He volunteered at the United States Holocaust Memorial Museum.