Start of Main Content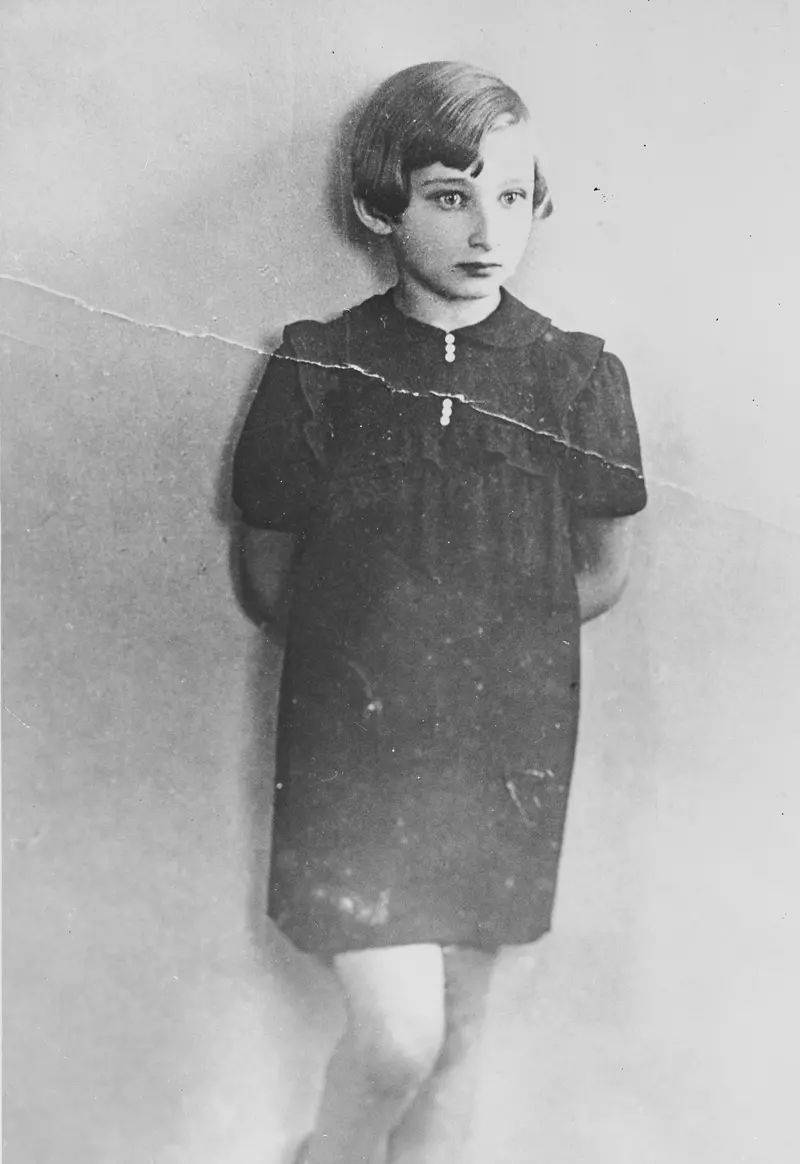 Born: March 28, 1928, Šiauliai, Lithuania
Nesse Godin was born Nesa Galperin on March 28, 1928, into an observant Jewish family in Šiauliai, Lithuania. Her mother, Sara, owned a dairy store and her father, Pinchas, worked at a shoe factory and ran the diary store with Sara. They spoke often to Nesse and her brothers, Jecheskel and Menashe, about the importance of community and caring for others. Šiauliai was home to a Jewish community of up to 8,000 members, who supported cultural and social organizations and multiple synagogues.
In the summer of 1940, the Soviet Union invaded and annexed Lithuania, ending Nesse's carefree childhood. As a Communist state, Soviet-controlled Lithuania opposed religion and free enterprise. The new government implemented harsh policies against many people in occupied Lithuania, including both Jews and non-Jews. The Communist authorities nationalized private property, which affected the Galperin family's dairy business. The government also shuttered some religious institutions, including Nesse's Hebrew school. The Soviet authorities deported thousands of Lithuanians (Jewish and non-Jewish) to Siberia. During this period, the Galperin family also learned about what was happening to Jews in German-occupied Poland from relatives who fled Łódź, Poland.
On June 26, 1941, Nazi Germany occupied Šiauliai and almost immediately put into effect antisemitic policies and decrees, including requiring all members of the Jewish community to wear a yellow Star of David badge on their clothing. Jewish children were prohibited from attending school, and Jewish businesses were confiscated. In the days and weeks that followed, German SS and police units in addition to their nationalist Lithuanian collaborators and auxiliaries began to carry out massacres of Jews. On June 29, they rounded up Jewish men and boys under the pretense of cleaning up the damage done to the city by the occupation. Instead, they took the Jewish men and boys to the nearby Kužiai Forest, where they forced them to dig large pits before telling them to take off their clothes. They then shot the men and boys and buried their bodies in the pits. Massacres continued throughout July 1941.
In August 1941, Nesse and her family were forced to move into the Šiauliai ghetto where they lived in overcrowded conditions. In the ghetto, Nesse experienced starvation and terror. She managed to survive multiple selections despite being a young teenager. In early fall 1943, the German authorities converted the ghetto into a subcamp of the Kauen concentration camp called Schaulen (the German name for Šiauliai) and Nesse was assigned to forced labor duty. On November 5, 1943, hundreds of people—including Nesse's father, Pinchas, and many children—were deported to Auschwitz and killed in the gas chambers. Nesse, her mother, and her brothers managed to avoid the selection because they were at work outside the ghetto. In July 1944, the few Jews remaining in the Schaulen camp were deported to the Stutthof concentration camp, as the Red Army approached. Nesse became prisoner number 54015 and was separated from her mother and brother Jecheskel. Her other brother, Menashe, evaded deportation with the help of a gentile friend.
In the camp, Jewish women looked after Nesse, protecting her and advising her on how to survive. She was deported to several other forced labor camps and then, in January 1945, she was sent on a death march with a group of female prisoners. Nesse recalled that when the Soviet army liberated the group on March 10, 1945, only 200 women out of the 1,000 on the march were still alive.
Nesse spent six weeks recuperating in a makeshift hospital in Chynowie, Poland, and was then assigned a foster mother to help her. They traveled to Łódź, Poland, where Nesse met a woman from Šiauliai who told her that her mother, Sara, was somewhere on the border between Germany and Poland. Nesse left the care of her foster mother to search for her own mother. By the time she reached the border, Sara—having learned that Nesse was alive—had left to find her in Łódź.
After weeks of traveling and searching, Nesse and her mother were reunited. In order to begin rebuilding their lives, Sara decided that either she or Nesse would need to marry. Nesse was 17 when Sara asked Yankel Godin, a survivor from Poland, to marry her daughter and join their family. Nesse and Yankel were married shortly after. The Galperin/Godins relocated to the Feldafing displaced persons camp in Bavaria, where they were reunited with Jecheskel. Many years later they learned that Menashe had also survived. And, in 1970, Menashe immigrated from Lithuania to Israel.
In 1950, the Galperin/Godins immigrated to the United States and settled in Washington, DC. Nesse and Jack (Yankel) have three children. In honor of the women who saved her life, Nesse is a passionate advocate for Holocaust education and awareness and has served as a volunteer at the Museum since before it opened in 1993.
Why I Volunteer
I was a prisoner from the age of 13 to 17. I lived through a ghetto, concentration camp, four labor camps, and a death march. I was not strong, I was not smart, I was a little girl. I think that I survived the Holocaust by the grace of the Lord above and by the kindness of Jewish women that gave me a bite of bread, wrapped my body in straw to keep me warm, held me up when I was hurt by the guards, gave me hope, but also asked me to promise them that if I survived I would not let them be forgotten. Remember and tell the world what hatred can do. I feel that the Museum is fulfilling my promise that I made to those women that did not survive. I am proud to be a devoted volunteer in our most wonderful institution of education as I call our Museum.