Start of Main Content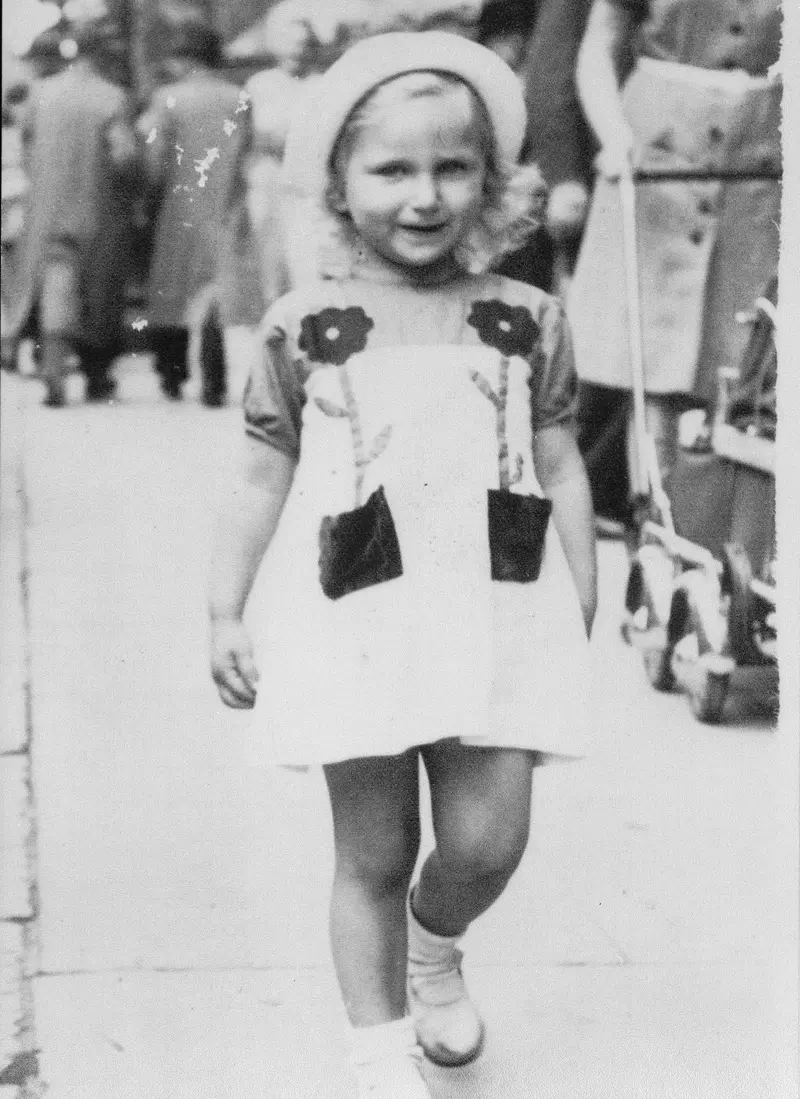 Born: March 21, 1939, Brussels, Belgium
Josie Traum was born Josiane Aizenberg in Brussels, Belgium on March 21, 1939 into a traditional Jewish home to Fajga "Fanny" Orenbuch Aizenberg and Jacques "Jack" Aizenberg. Jacques worked as a tailor and Fanny was a clothing designer who created clothes for many prominent Belgians, including the Belgian royal family. 
Nazi Germany invaded Belgium in May 1940. Jacques and his brother fled to England because it was thought that men were likely to be arrested by the Nazis and that women and children would be left alone. They were on one of the last ships to escape the occupation. The brothers joined the Polish contingent of the British army and worked in a factory making uniforms in London. Josie remained in German-occupied Belgium with Fanny  and Fanny's parents, Benjamin and Rivka Orenbuch.
During the occupation of Belgium, Josie and Fanny were subjected to German antisemitic restrictions. Fanny took part in the Belgian Resistance movement by hiding refugees in her apartment. Through her involvement in the underground resistance movement, Fanny was able to have three-year-old Josie placed into hiding. For Josie's safety, Fanny was not allowed to know where she was hidden. Benjamin was arrested and deported in September 1942. Fanny and Rivka hid in a variety of locations but were eventually caught, arrested, and deported to Auschwitz. Fanny's two sisters, Therese and Rose, were hidden in Catholic churches in Belgium by the resistance.
Josie was placed in the Sisters of Spermalli Convent in Bruges in 1942 under the false name Josiane van Bergh. Josie was one of three Jewish children being hidden among non-Jewish children in the convent's orphanage. The nuns were strict with all the children. Josie and the other children spent their days saying the rosary and playing in the courtyard. 
Eventually, the underground relocated Josie because Nazi suspicion was growing that Jewish children were hidden in the convent. Josie was then placed with a Christian family, the Debrackelaers, in Brussels that had a young daughter. The father in this family worked in the resistance and was taken away at times by the Nazis for questioning. 
After Belgium was liberated, Josie was found by her aunt Therese through connections in the underground. Fanny survived Auschwitz and returned to Belgium, where she and Josie were eventually reunited. Jack returned to their home in Belgium in 1946; he had been seriously injured when his London home was bombed. In 1949, the family moved to the United States, where they settled in New Jersey. 
After the war, Fanny learned from a survivor that her father Benjamin had died on the train en route to Auschwitz. Rivka was murdered soon after arriving at Auschwitz.
Josie went to Israel on a one-year study program after high school. There, she met her husband, Alfred "Freddie" Traum, a Kindertransport survivor from Austria. Josie earned her graduate degree and worked as a social worker with abused children. After her retirement, Josie began to volunteer at the United States Holocaust Memorial Museum. Fanny and Freddie also volunteered at the Museum.