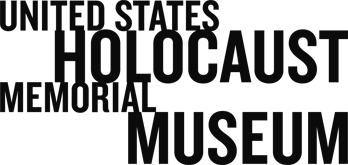 Synagogues
View of the interior of the Essenweinstrasse synagogue in Nuremberg following its destruction during Kristallnacht. —Yad Vashem
Synagogues occupy a central place in Jewish religious and communal life. To the Nazis, however, they served as a powerful physical reminder of the Jewish presence in Germany. In the months before Kristallnacht, synagogues in Munich, Nuremberg, Dortmund, and Kaiserslautern were demolished on the orders of local Nazi party officials; in other German towns, anti-Jewish vandalism was common.
On the night of November 9, the violence became nationwide. That day, German propaganda minister Joseph Goebbels announced to Nazi officials attending an anniversary celebration of Hitler's abortive uprising in 1923 that vom Rath had died and sporadic pogroms had broken out in a number of cities. Local SA, SS, and party leaders then received orders to attack the Jewish communities and carry out arrests. As these postcards from the Dachau and Buchenwald concentration camps illustrate, prisoners there were permitted, sometimes only in principle, to send and receive correspondence. Such writings had to adhere to a strict code of regulations and were subject to routine and often arbitrary censorship by camp authorities. Breaches in these rules could result in punishments for the prisoners. Discussions of camp conditions were strictly prohibited, and content was largely limited to personal matters.
Synagogues were frequently the first targets of these bands. After seizing the archives and valuables, they destroyed the interiors and desecrated religious objects. Wherever possible, the Nazi assailants tried to set the buildings ablaze, while firemen protected nearby "Aryan" property.
When the violence ended on the night of November 10, rioters had burned or destroyed 267 synagogues. German city officials, anxious to remove traces of these buildings, often ordered their immediate demolition and forced the Jewish community to pay for the costs.