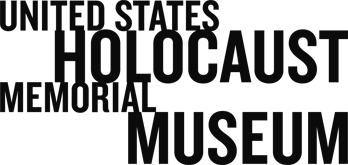 Jewish Emigration from Germany
Jews hoping to receive exit visas at a police station in Vienna. —Österreichische Gesellschaft für Zeitgeschichte, Vienna
Austrian child's passport issued in December 1938 in preparation for his family's emigration to the United States. The family perished while awaiting their quota numbers. —US Holocaust Memorial Museum
With the situation in Germany rapidly deteriorating, and the Nazi government pursuing a more aggressive antisemitic policy, many Jews sought refuge elsewhere. Tens of thousands lined up at foreign consulates for visas and immigration papers. In the ten months following Kristallnacht, more than 115,000 Jews emigrated from the Reich. Tens of thousands went to western European countries and Palestine, and at least 14,000 made it to Shanghai. In 1939, the combined German-Austrian annual immigration quota (27,370) for the United States was filled for the first time during the Nazi era.
In the wake of Kristallnacht, the Nazis increased the pressure on Jews to leave. Responsibility for accelerating Jewish emigration from the Reich now fell fully into the hands of the SS.
Refugees from Germany, however, faced immense difficulties. Nazi policies had systematically dispossessed Jews of much of their wealth, and few countries were willing to accept large numbers of impoverished immigrants. The Great Depression had left countless millions unemployed worldwide and fueled the fires of antisemitism, nativism, and xenophobia to which even government officials in democratic countries were not immune. The coming of war in September 1939 further helped to close the doors to émigrés from Germany, and in 1941, the Nazi regime embarked upon a more violent "solution" to the "Jewish Question": mass murder.