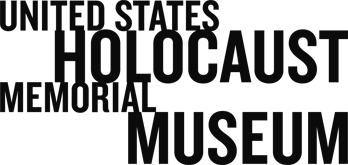 Jewish Businesses
Germans view the damage caused to a Jewish-owned store in Berlin. November 10, 1938. —National Archives
This document, issued by the Finance Office in Friedrichshain, states that the tax assessment for Dr. Norbert Landecker is set at 4000 Reichsmarks and is to be paid in four installments. —US Holocaust Memorial Museum
Jewish businesses had long been the target of Nazi wrath. On April 1, 1933, just two months after Hitler came to power in Germany, the Nazis sponsored a nationwide boycott of Jewish enterprises. Though only partially successful, it served as a harbinger of more drastic policies to come.
Throughout the 1930s, German Jewish businessmen were pressured to close their enterprises or sell them to "Aryans" at a fraction of their true value. By April 1938, the number of Jewish-owned businesses had declined from about 100,000 in January 1933 to 39,552. Retail stores were especially hard hit -- only some 9,000 shops of an estimated 55,000 were still in Jewish hands in July 1938. In the months prior to Kristallnacht, the Nazis stepped up their efforts to drive Jews from the German economy and strip them of their assets.
During the November pogroms, stormtroopers smashed Jewish store windows, destroyed goods, and carried out massive looting. German officials calculated that 7,500 enterprises were damaged or destroyed in the rampages.
The Nazis forced the Jews to pay the costs of the pogroms and banned them from gainful economic activity. Insurance monies to cover the damages were confiscated, Jewish store and home owners had to repair their buildings at their own cost, and an "atonement" fee of 1 billion Reichsmarks (about $400 million) was imposed on the community.