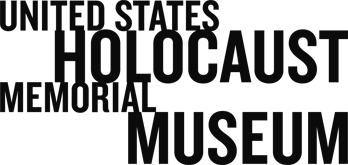 Timeline of Events
Liberation of Gunskirchen
Transcript
From: PRO, 71st Infantry Division
APO 360 - U S Army
To: PRO, THIRD ARMY
The Press Camp
APO 403 – U S Army
By Major Cameron Coffman
PRO, 71st Infantry Division
WITH THE 71ST DIVISION OF THE THIRD ARMY IN AUSTRIA: 5 May: -- Nazism at its worst was unfolded in stark reality before Doughboys of the 71st Infantry Division today when they stumbled upon a carefully concealed concentration camp six kilometers north of Lambach, Austria, which held 15,000 persons who were not true "Aryan" or whose political opinions were contrary to Hitler's "New Order".
My days of reading about Hun atrocities were over. I visited that camp today. The living and dead evidence of horror and brutality beyond one's imagination was there, lying and crawling and shuffling, in stinking ankle-deep mud and human excrement. The sight and smell made your stomach do funny things like an egg beater churning within. It was impossible to count the dead, but 200 emaciated corpses would be a very conservative estimate. For the most part they had died during the past two days, but there were many other rotting bodies inside the barracks beside living human being who were too weak to move.
It is practically impossible to describe in decent or printable words the state of degradation in which the German guards had permitted the camp to fall. Located in a dense patch of pine trees, well-hidden from the main highway as well as from the air, the site was well suited for the slimy, vermin-infested living conditions that existed there. To call the camp a pig sty would be doing injustice to a self-respecting pig. The sight was appaling and the odor that reached you a hundred yards or so from the camp site was nauseating.
Traveling into the camp along a narrow wagon road was an experience in dodging the multitude of dazed men, women and children fleeing from the horrors of this living hell. The natural impulse of these prople after the
(continued)
May 4, 1945
The 71st Infantry Division liberated Gunskirchen, one of the many subcamps of the Mauthausen concentration camp in Austria.
Construction of the Gunskirchen camp began in December 1944. The camp was planned to house several hundred slave laborers. When the camp was opened in April 1945, however, thousands of prisoners evacuated on death marches from Mauthausen started to flood Gunskirchen. In these overcrowded conditions, diseases such as typhus and dysentery spread rapidly through the starving and weakened camp population. The prisoners were—with the exception of 400 political prisoners—Jews from Hungary whom the Germans had forced to march on foot from their homeland to Austria, where they were to be used for forced labor. Some 17,000 Hungarian Jews reportedly passed through the Gunskirchen camp.
When troops of the 71st entered the camp, they learned that the SS guards had fled the corpse-littered camp days before. Some 15,000 prisoners were still in the camp. In the months following the liberation, some 1,500 former prisoners died as a consequence of their mistreatment by the Nazis.
Previous: Hitler Commits Suicide Next: British Forces Arrive at Neuengamme