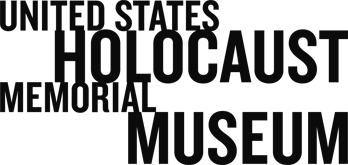 Timeline of Events
Liberation of Bergen-Belsen
Transcript
I am the Reverend T.J. Stretch attached as padre to the formation concerning this camp. My home is at Fishguard, my parish was at Holy Trinity Church, Aberystwyth. I've been here eight days, and never in my life have I seen such damnable ghastliness. This morning we buried over five thousand bodies, we don't know wo they are. Behind me, you can see a pit which will contain another five thousand. There are two others like it in preparation. All these deaths have been caused by systematic starvation and typhus and disease, which have been spread because of the treatment meted out to these poor people by their SS guards and their SS chief.
April 15, 1945
The 63rd Anti-tank Regiment and the 11th Armoured Division of the British army liberate about 60,000 prisoners at the Bergen-Belsen concentration camp.
As it drove into Germany, the 11th Armoured Division occupied the Bergen-Belsen concentration camp on April 15, 1945, pursuant to an April 12 agreement with the retreating Germans to surrender the camp peacefully. When the 11th Armoured Division entered the camp, its soldiers were totally unprepared for what they found. Inside were more than 60,000 emaciated and ill prisoners in desperate need if medical attention. More than 13,000 corpses in various stages of decomposition lay littered around the camp.
The discovery of the Bergen-Belsen camp and the horrendous conditions there made on powerful impact on public opinion in Great Britain and elsewhere. One member of a British Army Film and Photographic unit recalled the masses of unburied corpses:
The bodies were a ghastly sight. Some were green. They looked like skeletons covered with skin—the flesh had all gone. There were bodies of small children among the grown ups. In other parts of the camp there were hundreds of bodies lying around, in many cases piled five or six high.
Related Topics
Previous: Last Diary Entry Written by Otto Wolf Next: Page from Otto Wolf's Diary