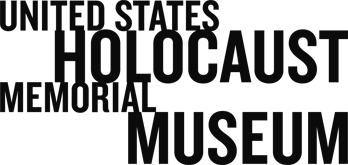 Timeline of Events
Death March from Auschwitz
Transcript
Word came to us that we were going to evacuate Auschwitz. Why were we evacuating Auschwitz? It is because the Russians were coming close by. And so we...we all walked out Auschwitz and we started walking. And we started walking, we walked for days. I'll never forget it. I don't know how many days we walked. We walked and then we took cattle cars and then we walked again. And as we walked we heard gun shots and they told us to keep on marching. We heard gun shots and they were shooting people in the back who couldn't keep up with the walking. It ended up being called the death march because the ravines and the gutters, they were all red from blood. From people, some people who spoke Polish, we were walking through Poland, and some people who thought they could escape would try and escape. Some people who couldn't keep up with the walking anymore, they got weak, they threw all their bundles away and they walked until they couldn't keep up anymore, they fell behind and the Germans just shot them. We saw people being shot in the front in their chests, in their back. They were laying all over, on top of hills, behind trees. It was really like a war zone. And this is how we finally arrived in a camp called Bergen-Belsen.
January 17, 1945
As Soviet troops approach, SS units begin the final evacuation of prisoners from the Auschwitz camp complex, marching them on foot toward the interior of the German Reich. These forced evacuations come to be called "death marches."
In mid-January 1945, as Soviet forces approached the Auschwitz concentration camp complex, the SS began evacuating Auschwitz and its subcamps. SS units forced nearly 60,000 prisoners to march west from the Auschwitz camp system. Thousands had been killed in the camps in the days before these death marches began. Tens of thousands of prisoners, mostly Jews, were forced to march either northwest for 55 kilometers (approximately 30 miles) to Gliwice (Gleiwitz), joined by prisoners from subcamps in East Upper Silesia, such as Bismarckhuette, Althammer, and Hindenburg, or due west for 63 kilometers (approximately 35 miles) to Wodzislaw (Loslau) in the western part of Upper Silesia, joined by inmates from the subcamps to the south of Auschwitz, such as Jawischowitz, Tschechowitz, and Golleschau. SS guards shot anyone who fell behind or could not continue. Prisoners also suffered from the cold weather, starvation, and exposure on these marches. At least 3,000 prisoners died on route to Gliwice alone; possibly as many as 15,000 prisoners died during the evacuation marches from Auschwitz and the subcamps.
Previous: Last Gassing at Hartheim Next: Soviet Forces Liberate Auschwitz