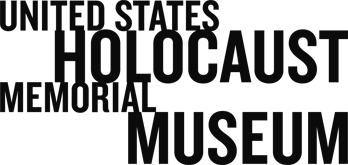 Resistance in the Kovno Ghetto
Chaim Yelin (right). US Holocaust Memorial Museum, courtesy of Dov Levin
Resistance leader Chaim Yelin (right) and his assistant Moshe Musel of the Kovno ghetto's Jewish Fighting Organization. US Holocaust Memorial Museum, courtesy of Pola Musel
Chaim Yelin (1912–1944)
In the months following the June 1941 German invasion of the Soviet Union, Jews in Kovno (Kaunas), Lithuania, began to organize resistance to Nazi rule. During the fall of that year, Communists and Zionists formed underground units in the city's ghetto that smuggled in weapons, made contact with the Soviet resistance movement in the area, and engaged in sabotage.
Among those who played a crucial role in the ghetto's resistance was Chaim Yelin. Born in Vikija, Lithuania, he attended the university in Kovno and quickly established himself as a gifted Yiddish poet and writer. When German troops invaded the Soviet Union, Yelin tried to escape, but was captured and sent to the Kovno ghetto. In the wake of the mass executions of Jews carried out by the SS and their Lithuanian collaborators in the summer and fall of 1941, he and some close friends established the Anti-Fascist Organization. Soon he became the acknowledged leader of the ghetto's Communist underground.
At great personal risk, Yelin repeatedly escaped from the ghetto and met with the Communist resistance in the city. He and his fellow fighters smuggled in badly needed weapons and ammunition, gathered information, and made contact with Soviet partisans in the nearby forests.
Using his talents as a charismatic leader and organizer, in the summer of 1943, Yelin helped to forge Communist and Zionist units into a united resistance organization, the Jewish General Fighting Organization (Yidishe Algemeyne Kamfs Organizatsie; JFO). The JFO soon numbered six hundred members—among them Sara Ginaite—who carried out acts of sabotage to disrupt the German war effort and sought out Soviet partisan bases in the forests around Kovno.
In the early fall of 1943, Yelin slipped out of the ghetto and traveled one hundred miles to the Rudnicki Forest near Vilna, where he contacted Soviet partisans. Following the meeting, the JFO agreed to send small detachments of fighters into the Augustow Forest, south of Kovno, to join the partisans and set up bases of operation. All told, almost a hundred members of the JFO escaped from the ghetto in those missions; most were captured or killed by German troops. In spite of these heavy losses, the Jewish underground was still able to bring more than three hundred fighters from the ghetto to the forests, where they joined with Soviet partisans in fighting German troops.
Yelin, however, did not live to see liberation. On April 6, 1944, while on a mission outside the Kovno ghetto, he was captured after a gunfight with police and turned over to the Gestapo. Fearing mass reprisals against Kovno's remaining Jews, he hid his identity and insisted, even under pain of torture, that he was a Soviet paratrooper. Several weeks later, in early May 1944, Yelin was killed.