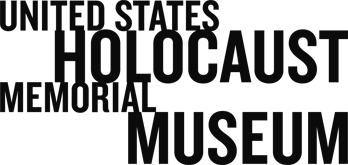 Tell Them We Remember: The Story of the Holocaust
(Zeg Dat We Het Miet Vergeten: Het Verhall Van De Holocaust)
Academic PublicationClose

Tell Them We Remember: The Story of the Holocaust

By Susan D. Bachrach


SPECS: 117 pages, ill., glossary, bibliography, index, 8 ½" X 11"
PUB DATE: 1997


KIND: Hardcover
ISBN: 90-5637-070-7



PUBLISHED BY: Lemniscaat in Dutch in association with the United States Holocaust Memorial Museum


Academic PublicationClose

Tell Them We Remember: The Story of the Holocaust

By Susan D. Bachrach


English

SPECS: 112 pages, ill., glossary, bibliography, index, 8 ½" X 11"
PUB DATE: 1994


KIND: Hardcover
ISBN: 0-316-69264-6



PUBLISHED BY: Little Brown in association with the United States Holocaust Memorial Museum


TEL: 800.259.9998

Call to order from the Museum Shop

For more information about Academic Publications, e-mail cahs_publications@ushmm.org
By Susan D. Bachrach

"To most children—indeed to most adults—the word Holocaust is about something that happened a long time ago in a place far away. The stuff of folk tales and horror stories. Tell Them We Remember helps to put faces to that word. If we don't remember well enough, we repeat history. This book helps us to truly remember."
—Jane Yolen, author of Devil's Arithmetic and Briar Rose
The United States Holocaust Memorial Museum in Washington, D.C. is dedicated to the memory of the millions of people who were persecuted and murdered by Nazi Germany and its supporters between 1933 and 1945. One and a half million of the victims were children and teenagers—the great majority of them Jewish children but also tens of thousands of Roma (Gypsy) children, disabled children, and Polish Catholic children. Like their parents, they were singled out not for anything they had done, but simply because the Nazis considered them inferior.
Drawing on the Museum's large collection of artifacts, photographs, maps, and taped oral and video histories, this book tells the story of the Holocaust and how it affected the daily lives of innocent people throughout Europe. Excerpts from "identity cards" that are part of the Museum's exhibit focus on specific young people whose worlds were turned upside down when they became trapped under Nazi rule. Many of these young people never had the chance to grow up. Those who survived to become adults passed on the stories of relatives and friends who had been killed, with the hope that the terrible crimes of the Holocaust would never be forgotten or repeated. The powerful stories and images in this book are presented with the same hope. Only by learning about the Holocaust will we be able to tell the victims we remember. From the book jacket of the English-language edition.
"Tell Them We Remember should be read by every schoolchild in America and studied in every public school. If we are not to relive history's recurring holocaust, we must learn its lessons."
—Harry Mazer, author of The Last Mission
Susan D. Bachrach is a staff historian in the Exhibitions Department at the United States Holocaust Memorial Museum. She received her Ph.D. in modern European history from the University of Wisconsin-Madison. She lives with her husband and their two children in Washington, D.C.