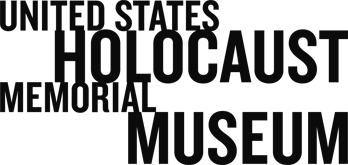 Fellows and Scholars
Access to Museum Resources
Fellows at the Museum's Jack, Joseph and Morton Mandel Center for Advanced Holocaust Studies have access to extensive resources, including approximately 100 million pages of Holocaust-related archival documentation; the Museum library; oral history, film, photo, art, artifacts, and memoir collections; and a Holocaust survivors and victims database. Many of these sources have not yet been examined by scholars and offer unprecedented opportunities to deepen knowledge about the Holocaust and further advance the field of Holocaust studies.
In addition, fellows have access to the digitized holdings of the International Tracing Service (ITS) relating to the fates of 17.5 million people who were subject to incarceration, forced labor, and displacement as a result of World War II. Over the next several years, the Museum expects the complete receipt of more than 100 million digital images of archival material from the ITS, and we especially encourage proposals from applicants interested in these records.
Work with Holocaust Scholars
Mandel Center fellows work with new and established Holocaust scholars from the United States and abroad, enabling them to test ideas, share research findings, debate methodological or interpretive approaches, and develop comparative frameworks for individual projects. The Mandel Center's weekly fellows meetings and senior seminar programs provide stimulating forums for debate and discussion. Fellows may also participate in the Mandel Center's outreach activities at universities and other academic institutions, both locally and throughout the United States.
Proposals from applicants conducting research outside the discipline of history or on Mandel Center strategic priorities are especially encouraged, including literature and the Holocaust; projects utilizing the ITS collection; Jewish and especially Sephardic experiences of persecution; the Holocaust as it occurred in the Soviet Union, and the Holocaust as it occurred in North Africa. The Mandel Center especially welcomes proposals from scholars in all relevant academic disciplines, including, but not limited to: anthropology, archeology, art history, geography, film studies, German studies, history, Jewish studies, law, literature, material culture, philosophy, political science, psychology, religion, comparative genocide studies, and others.
In addition to the fellowship competition, each year the United States Holocaust Memorial Council's Academic Committee invites two distinguished scholars in the field of Holocaust studies to take up residency at the Mandel Center as the J. B. and Maurice C. Shapiro Senior Scholar-in-Residence and the Ina Levine Invitational Scholar.
Award details
The Mandel Center awards fellowships-in-residence to candidates working on their dissertations (ABD), postdoctoral researchers within five years of receiving their Ph.D., and scholars more than five years beyond the receipt of their Ph.D. Because a principle focus of the program is to ensure the development of a new generation of Holocaust scholars, we especially encourage scholars early in their careers to apply. Applicants must be affiliated with an academic and/or research institution when applying for a fellowship. We will also consider immediate post-docs and faculty between appointments.
The specific fellowship and the length of the award are at the Mandel Center's discretion. Individual awards generally range up to eight consecutive months of residency; a minimum of three consecutive months is required. No exceptions are allowed. Fellowships of five months or longer have proven most effective.
Stipends range up to $3,700 per month for the purpose of defraying local housing and other miscellaneous living expenses and are subject to US tax law. Residents of the Washington, DC, metropolitan area receive a reduced stipend of $1,850 per month. Awards include a stipend to offset the cost of direct travel to and from Washington, DC. Residents of the Washington, DC, metropolitan area do not receive a travel stipend.
The Mandel Center is able to provide visa assistance to fellows and their dependents, if necessary. Fellows are responsible for securing their own housing accommodations and health insurance. We do not provide support allowances for accompanying family members.
The Mandel Center provides flexible work space and access to a computer, telephone, facsimile machine, and photocopier. We encourage cost-sharing by home institutions or other relevant organizations to extend the residency of the applicant at the Mandel Center or to make possible additional research at other institutions in the Unites States and abroad.
2017–18 fellowship donors
The Mandel Center's 2017–18 fellowships are made possible by the generous support of the following individuals and organizations:
Ben and Zelda Cohen Foundation
Fred and Maria Devinki Memorial Fellowship Fund
Gene and Neddie Mae Elkus Foundation
Yetta and Jacob Gelman Endowment
Alexander Grass Foundation
Phyllis Greenberg Heideman and Richard D. Heideman
Miles Lerman Center for the Study of Jewish Resistance
William S. and Ina Levine Foundation
William J. Lowenberg Memorial Fellowship Fund on America, the Holocaust, and the Jews
Matthew Family Charitable Trust
Margit Meissner Fund for the Study of the Holocaust in Czech Lands
Norman Raab Foundation
Judith B. and Burton P. Resnick Foundation
Pearl Resnick Fellowship Foundation
Robert Savitt Visiting Scholars Fund
Joyce and Arthur Schechter Endowment Fund
J. B. and Maurice C. Shapiro Charitable Trust
The Sosland Family
Initiative on Ukrainian-Jewish Shared History and the Holocaust in Ukraine
Diane and Howard Wohl
This list may not include all potential named fellowships and is subject to modification.