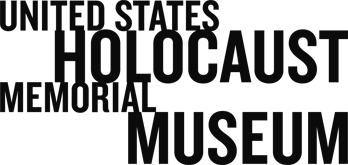 Remarks by Benjamin Meed
Benjamin Meed, Chairman of Days of Remembrance
April 30, 2003, The Capitol Rotunda, Washington, DC
It has been 10 years since the opening of the US Holocaust Memorial Museum, and I have been privileged to be the chair of our Nation's marking of the "Days of Remembrance."
Each year, as we gather, we speak about the same themes, about the heroism of our martyrs, about our tragic losses, about their final invocation to us:
Zachor! — remember, never forget.
This year, our obligation to remember is all the more urgent. We stand today in a perilous world, the echoes of our past resonating everywhere.
For we find ourselves again in a world at war. And we find ourselves again in a world, where madmen would threaten America as well as the Jewish people, and their rabid followers would eagerly seek the annihilation of us all.
We saw this again in the war with Iraq. Although our brave American men and women were fighting, it was the Jewish State that was threatened with destruction, and as the Jews were threatened, most of the world hung back, uncaring and unconcerned.
I think back to that time, 60 years ago, when I stood outside the walls of the burning Warsaw, carrying false papers, pretending to be a Christian Pole myself. I remember watching in disbelief as a merry-go-round turned on Plac Krasinski, opposite the ghetto, and people went about as if on holiday, acting as if this was an Easter Sunday like any other.
To this day, the scene haunts me. How was it possible for our neighbors to act "normally," to carry on their lives and entertainment, while Jews fought and died inside the ghetto walls?
Sixty years later, this great land, our adopted homeland, has learned the lessons of the Holocaust, to oppose evil tyrants.
It is our obligation, as Americans, as Jews and survivors, to make sure that this commitment to sanctity of life and the opposition to hatred everywhere…that this obligation never waiver.
We the eyewitnesses will all soon pass from the scene. Our memories however, will not die with us. The United States Holocaust Memorial Museum stands as our promise, that the memory of our Keddoshim- Martyrs will never be extinguished. And it stands too as a beacon and as a reminder, that the lessons of the Holocaust, to oppose evil and to preserve human dignity….that these lessons will never be forgotten.
We are here — to pay tribute to the resistance fighters of Warsaw and elsewhere.
We are here — to remember and not let others forget. Mir zeynen do!