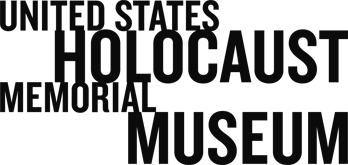 Holocaust Survivors and Victims Database
Auschwitz III inmate ledger. [Internet resource] (ID: 33030)
Authorship or Source:
Auschwitz (Concentration camp)
Title or Main Description:
Auschwitz III inmate ledger. [Internet resource]
Description:
Approx. 30 leaves : tabs. ; 21.5 x 17 cm.
Type of Work:
Archival and also Internet resource.
Alternate or Series Title:
Auschwitz III - documents and photographs.
Calypso.
Auschwitz inmate ledger.
Museum or Other Institution Holdings:
Simon Wiesenthal Center Archives (Los Angeles, California), Item Number: 1987-157 [001].
Provenance:
Place of Origin: Auschwitz III Concentration Camp, Poland.
"Handwritten register of prisoners in the Kommando known as the Maurerschule ("Mason School") at Auschwitz I, documenting arrivals and departures during the period from October 3, 1942-June 1, 1943, with an interruption between March 5 and March 15. The ledger is a paper notebook with ink script. Writing is neat and clear, and all names are legible. The register contains 1500 entries referring to 996 prisoners (some names appear more than once). Handwriting changes indicate that the ledger was kept by more than one person. The top of the register is divided into seven columns with German headings: date (Datum), current running number (Lfd. Nr.) that is divided into two columns, departure (Abgang) and arrival (Zugang), count (Stand), prisoner number (Haftl. Nr., unique to each inmate), the inmate's last and first name (Name und Vorname), and a notes column (Bemerkung). The numbers in the arrival and departure columns were a means of tracking the number of inmates that had arrived and the number of inmates that had departed as of that moment. Similarly, the count column is a running count that increases and decreases as inmates arrive and leave, reflecting the total number of inmates in the block at any given time. The first entry from October 3, 1942 indicates that there were 186 prisoners in the mason school on that day. The number of the count column ranges from a low of 126 in November 1942, to a high of 450 in April 1943. The final entry count is 421 on June 1, 1943. Sometimes the birth date is also recorded. The notes column (Bemerkung) records a variety of information about inmates, including, among other things, where they work, if they were transferred for work, "unable to work," if they are at or have returned from the "inmates sick bay," as well as "unfit," deceased, and escaped. Louis Posner, an inmate of Auschwitz from April 1943 until 1945, found the ledger in January 1945 after the Russians liberated the camp. Posner, who was 18 years old, had been ill with tuberculosis and consequently was left behind at the infirmary when the Nazis withdrew from Auschwitz. While investigating the empty camp barracks, Posner spotted the ledger lying on the floor of what appeared to be an abandoned records room, surrounded by rubble and partly covered with dirt. Posner describes his discovery of this artifact in his book, "Through a Boy's Eyes" (2000). The Mauerschule, in Block 7a, housed male inmates, the majority between the ages of 13 and 25, who were brought from the Soviet Union, Czechoslovakia, Germany, Austria, Greece, and Poland. About two-thirds of the inmates were Jews, and nearly all of the non-Jewish prisoners were Roma ("Gypsies"). These inmates received masonry training in the attic of the building. Some worked at the munitions factory and on enlargement of the camp. 210 of the 996 prisoners of the Maurerschule died in Auschwitz."--Item description from Simon Wiesenthal Center's catalog. For more information please contact the Simon Wisenthal Center at: library@wiesenthal.com or 310-772-7605.
Keywords:
Jews --Poland --Monowice --Registers.
Auschwitz III (Concentration camp) --Registers.
Monowitz (Concentration camp) --Registers.
Forced labor --Poland --Monowice --Registers.
Abstract:
Original handwritten inmate ledger. The ledger contains names, numbers, dates and other information, all handwritten in a notebook. The ledger contains entries made from 10-03-1942 until 06-01-1943. For more information please contact the Simon Wisenthal Center at: library@wiesenthal.com or 310-772-7605.
Language and Other Notes:
Text in German.
Collection title: Auschwitz III - documents and photographs.
"Calypso"--Cover.