Public Events Calendar
DAILY
+ Add This to Your Calendar
Registration Not Required
---
Location:
US Holocaust Memorial Museum
100 Raoul Wallenberg Place, SW
Wexner Center, Second Floor
Washington, DC 20024
Map
Syria:
Please Don't Forget Us
Exhibition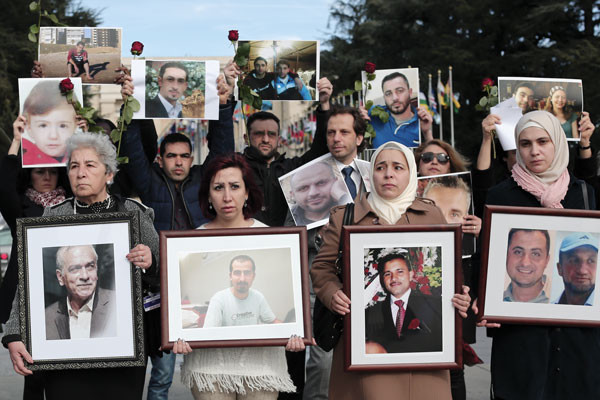 Since the start of the conflict in Syria, the Museum has been sounding the alarm for policymakers and the public about atrocities being committed by the Assad regime. As part of its campaign of violence, the Syrian government has detained more than 100,000 of its own citizens. In many cases, the government has refused to release their names. Families of the missing do not know whether loved ones are alive or dead.

One survivor of detention and torture, Mansour Omari, recently entrusted us with evidence of those crimes, which will be on display in Syria: Please Don't Forget Us, a new exhibition in the Wexner Center, on the Museum's second floor.

While in prison, Mansour and his fellow prisoners wrote their names on five scraps of fabric in an ink made of rust and their own blood. When Mansour was released, he wore a shirt with these pieces of fabric sewn inside so he could inform his cellmates' families about what had happened to them. He has loaned the fabric to the Museum for preservation and public display.
Using video, music, and testimony, Syria: Please Don't Forget Us introduces visitors to the victims of a faraway conflict through one man's story. The exhibition will be open every day during the Museum's operating hours.
Location
The Wexner Center, second floor. No passes required.
Exhibition open through September 4
Registration Not Required
Please note that the Museum may be recording and photographing this event. By your presence you consent to the Museum's use of your image.
---