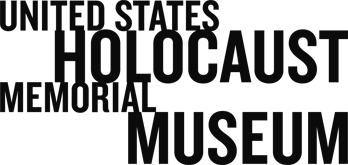 Timeline of Events
1944
1914
1915
1916
1919
1920
1923
1925
1929
1931
1932
Bela Weichherz Diary Entry
January 24, 1931
Slovak Jew Bela Weichherz and his wife, Esti, lived in the city of Bratislava where he worked as a traveling salesman for the Philips Company. Bela's parents and some of his seven siblings remained in Cadca, his hometown, and the family visited them often. After Esti gave birth to a baby girl, Kitty, in December 1929, the proud new father kept a diary of his daughter's life and posted photos like this one in its pages to chart her development.
As the persecution of Jews in their native Slovakia worsened, Bela's proud inscriptions of his daughter's accomplishments gave way to the heartbreaking expressions of a father's fear for his family. Bela last wrote in his diary shortly before they were all deported to a Nazi killing center—the words he left behind are the only direct record of Kitty's short life.
The two diaries were hidden during the war. A now unknown person recovered them and gave them to Bela's surviving sister, Malvine.