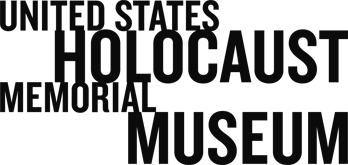 Timeline of Events
Page 1 of Letter from US Soldier Aaron Eiferman
Transcript
April 27, 1945.
To the future and us.
My Darling Wife:
I read your letter about the death of president Roosevelt. And all of the soldiers feel the same, he was a great man and always will be rememberd. But we have seen somthing here that overpowers the death of anyone back home. We have seen what can be called the living dead
Moving up into a new position we came across a prison camp (concentration camp for jews from the different countries of Europe). After digging our fox holes, and preparing our defense, we went out to see what a consentration camp looked like. What we seen was anoff to last us the rest of our lives.
As we entered the camp the first thing we saw was the burned down buildings, but a little farther on we got the shock of our lives. There on the ground in the middle of the burned buildings was the chared remains of the jewish slave workers, the smell of the bodys was sikenig. They were stretched out in all kinds of mishaped forms. Some with there mouths open in agony, others shot and burned looking like waxend figures, and still others burned so bad you could not recognise them at all.
April 27, 1945
US soldier Aaron A. Eiferman, with the 12th Armored Division, writes a letter to his wife describing conditions in Kaufering IV, one of the Nazi concentration camps in the Landsberg area.
As Allied troops moved across Europe in a series of offensives against Nazi Germany, they began to encounter tens of thousands of concentration camp prisoners. Throughout the spring of 1945, American and Allied forces liberated numerous concentration camps as they closed in on Berlin. The battle-hardened Allied soldiers were shocked at what they discovered. As Eiferman wrote,
We have seen what can be called the living dead
Some five months after the D-Day invasion of western Europe, the 12th Armored Division entered France through the port of Le Havre and quickly made its way eastward toward Alsace by early December. In March 1945, the "Hellcats" advanced into the Rhineland and captured the city of Ludwigshafen on March 21. Deploying southward, the unit took the city of Würzburg early the next month. By the end of April, the 12th had advanced well into Bavaria and had reached the Danube River. The division ended the war in Austria.
During its penetration of southern Germany, the 12th overran this Dachau subcamp in the Landsberg area on April 27, 1945.
Previous: Soviet and US Troops Meet at Torgau Next: Liberation of Dachau