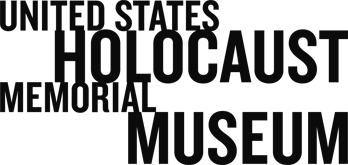 Mentally and Physically Handicapped: Victims of the Nazi Era
Helene Lebel's story is told on one of the Museum ID cards distributed to visitors entering the Permanent Exhibition. —US Holocaust Memorial Museum, courtesy of Helene Melanie Lebel
The Hadamar "euthanasia" center. In all likelihood the smoke is from the crematoria. Hadamar, Germany, 1941. —Hessisches Hauptstaatsarchiv Wiesbaden
Buses operated by the T-4 transport company Gekrat, which conveyed victims to the "euthanasia" centers. Wiesbaden, Germany, 1941. —Hessisches Hauptstaatsarchiv Wiesbaden
War crimes investigators question a nurse about the mass killings at the Hadamar "euthanasia" center. Hadamar, Germany, May 4, 1945. —US Holocaust Memorial Museum, courtesy of National Archives and Records Administration, College Park, MD
A physician displaying a patient at the Karl-Bonhoeffer psychiatric clinic. Berlin, Germany. —Vivantes Netzwerk für Gesundheit
Soon after Hitler took power, the Nazis formulated policy based on their vision of a biologically "pure" population, to create an "Aryan master race." The "Law for the prevention of Progeny with Hereditary Diseases," proclaimed July 14, 1933, forced the sterilization of all persons who suffered from diseases considered hereditary, such as mental illness (schizophrenia and manic depression), retardation ("congenital feeble-mindedness"), physical deformity, epilepsy, blindness, deafness, and severe alcoholism.
Learn more about the mentally and physically handicapped during the Nazi era:
or download the PDF version.