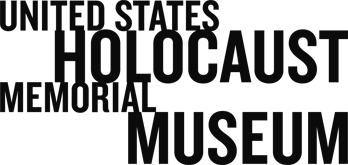 A Geography of Complicity
A graphical depiction using PowerPoint of the positions of Wehrmacht soldiers during mass killings in Belarus. —Waitman W. Beorn, 2010
View of the Krupki (Belarus) killing site. —Waitman W. Beorn, 2009
Wehrmacht route sketch which includes Krupki, 1941. RH 26-286-3. —Bundesarchiv Militärarchiv (BAMA), Freiburg, Germany
Spaces and Mentalities in Wehrmacht participation in Einsatzgruppen Killings in the Soviet Union
How did geography and conceptions of space impact the ways in which German soldiers participated in Einsatzgruppen killing across the Soviet Union? At a regional, local, and individual level, we can use geographic methodology to better understand how and why these killings unfolded in the ways they did in the early days of the war in the Soviet Union.
First, the very towns and cities in which killing took place and the dates of massacres were determined in a large part by the geography of the region. For example, towns and cities located on the main high speed highways were among the first to be targeted at least partially because they were the easiest to get to. Likewise, more isolated and rural communities required longer to reach. These spatial considerations also influenced how German army units came into contact with the Holocaust. Unit boundaries drawn on maps determined which actual soldiers would be in what locations. Towns located at important junctions were of increased importance and soldiers tasked with protecting these areas often ended up participating in the murders of Jews there as well. Later, while SS and SD units would target larger towns and cities, the Wehrmacht, given its greater manpower, would also find itself searching for Jews in the countryside.
At the very local level, considerations of privacy and ease of excavation meant that the nature of the landscape itself often determined where the killing site itself would be located. Thus, we often see existing pits, ravines, and areas with sandy soil chosen. In addition, the time of year was also important as large killing operations often slowed down or stopped during the winter months due to the frozen ground.
At the most intimate level, we can also see a spatial breakdown of how the men themselves participated in killing. The nature of a soldier's experience and the extent of his participation in killing was often directly related to his actual position on the ground. German soldiers rounded up Jews, prevented their escape, marched them to the killing sites and often participated in the killing themselves. Because these soldiers had some agency regarding these participations, their physical position on the ground can reveal much about their attitude toward the killing itself. Thus, we can speak of a geography of complicity where we can suggest that the more willing soldiers often found themselves closest to the killing, spatially. Temporal and spatial location also changed the soldiers themselves. This project has shown that extended physical contact with the Nazi genocidal project over time led most soldiers to become more deeply complicit.
Metacategories
Scale: Local and Regional
Time: July 1941–Winter 1941/1942
Place: Krupki, Krucha, Slonim, Novogrudok, Szczcuzyn
Authors
Waitman W. Beorn