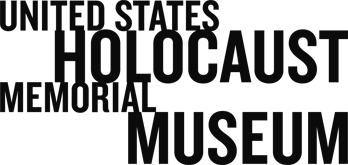 Auschwitz Study
SS Erkennungs Dienst, View of the Ramp at Auschwitz-Birkenau Showing the SS Selection of Hungarian Jews (c. 1944). This view, from the so-called "Auschwitz Album," was taken by an SS Erkennungsdienst photographer documenting the arrival process and selection for forced labor or death of the Hungarian Jews (Data Source: Yad Vashem (Public Domain), Panstwowe Muzeum w Oswiecim-Brzezinka Panstwowe Muzeum w Auschwitz-Birkenau w Oswiecimiu) —US Holocaust Memorial Museum, Photo Archive
Viewshed of a Digital Reconstruction of the Auschwitz-Birkenau Space Showing Approximate Lines of Sight of SS Officer on the Ramp (c. 1944). The "light" cast from a single point indicates the range of sight as well as where the sight would have been blocked by intermediary structures. (Data source: Osobyi Archive, RG 11.001M.03, USHMM) —Chester W. Harvey with Anne Kelly Knowles and Paul B. Jaskot.
Auschwitz seems to be the most familiar place of the Holocaust. However, while we know much about the camp and its function in the genocide, there are many things we don't know. At the level of how people lived, worked and died in the camp, many issues remain unexplored, especially how the camp developed over time. Our project uses geovisualization tools, including a digital rendering of the built landscape of the entire camp, to pose new historical questions. Rendering the places and spaces of Auschwitz imbues both with meaning while making it possible to analyze them in new ways.
Analyzing the real and imagined SS environment at Auschwitz helps us to understand more critically the development of this important genocidal center, the relation of oppression to other economic and social functions, and the different experiences of all who were forced to toil and die there. Bringing questions about time together with the analysis of space brings to the fore the importance of geographic concepts for a historical interpretation of this most important site of the Holocaust.
Exploring the central spatial characteristics of the genocide at Auschwitz involves looking at diverse kinds of evidence, such as:
Plans from the SS Central Building Administration for the physical layout of the entire site.
Administrative documents that describe changes to the site and the surrounding area, including the changing functions of buildings over time.
Testimony from survivors.
SS photographs of buildings and construction.
Historical maps and Allied reconnaissance photographs that document the built environment as a whole.
Metacategories:
Scale: Individual, Urban, Regional
Time: February 1943 to June 1944
Place: Auschwitz
AUTHORS:
Paul B. Jaskot, Chester W. Harvey and Anne Kelly Knowles