Born: May 11, 1934, Lubochna, Czechoslovakia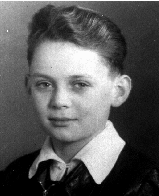 In 1933, just after Hitler and the Nazi Party came to power, Thomas's Jewish parents moved from Germany to Czechoslovakia. Thomas's father had worked as a banker in Germany, and then bought a small hotel in the Slovakian town of Lubochna. Many of his father's friends in Germany came to Czechoslovakia to escape the Nazi government's unfair policies and stayed at the hotel.
1933-39: Slovak soldiers who had sided with Hitler took over our hotel in late 1938. We fled to Zilina, a nearby city, and lived there until after I turned 5. Then, my father took us across the border into Poland. On September 1, 1939, we boarded a train heading for a boat that would take us to England. But the German army invaded Poland that day, and our train was bombed. We joined other refugees, and walked north to Kielce.
1940-45: In Kielce we were put into a ghetto and then a labor camp. In 1944 I was deported to Auschwitz with my parents. It was now January 1945, and the advancing Soviet army forced the Germans to evacuate. We were marched out--children at the front. Day one was a 10-hour march and tiring; we began to lag. Stragglers were shot, so two boys and I devised a way to rest as we walked: We'd run to the front of the column, then walk slowly or stop until the rear of the column reached us. Then, we'd run ahead again.
Thomas was one of only three children to survive the three-day death march. He was deported to Sachsenhausen, where he was liberated by Soviet troops in April 1945.
Copyright © United States Holocaust Memorial Museum, Washington, DC