Born: May 3, 1931, Velikiye-Bychkov, Czechoslovakia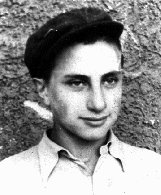 David was born to religious Jewish parents in a small town in Ruthenia, Czechoslovakia's easternmost province, which had been ruled by Hungary until 1918. Located in the Carpathian Mountains, the town was so isolated that news from the rest of the country would arrive by a drummer who would read the news in the town's central square. David's father worked as a tailor and his mother was a seamstress.
1933-39: While my parents worked, I'd be at home having a good time. We had a beautiful home with all the necessary comforts, including an outhouse in the back. A Czech army officer lived in our home until the Hungarians annexed our province in March of 1939. After that, at school we had to pledge allegiance to Hungary. Hungarian police with feathers in their green hats patrolled our streets enforcing anti-Jewish laws.
1940-44: I was deported to Auschwitz in 1944 [and soon after was selected for deportation to the Plaszow concentration camp]. Later, at the Reichenbach camp I was crammed in an open cattle car with 150 living skeletons headed for another concentration camp. One by one they fell down and were trampled. After half died, it was possible to sit on the dead. Someone fell on me--he was dying. I hadn't had any food or water in four days. With all my remaining strength I pushed the body off and fell on top of him. He tried to push me away, but we were both too weak. In a final effort, he bit my leg and then died.
David was one of three who survived the seven-day trip to the Dachau camp. He was freed near Innsbruck, Austria, in May 1945 and emigrated to the United States in 1947.
Copyright © United States Holocaust Memorial Museum, Washington, DC