Displaced Persons — Photograph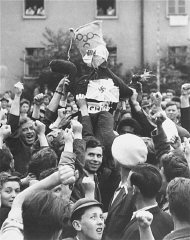 Displaced persons protest the forced return to Germany of passengers from the refugee ship "Exodus 1947." British Foreign Secretary Ernest Bevin is hanged in effigy. Photograph taken by Henry Ries. Hohne-Belsen, Germany, September 7, 1947.
— Henry Ries / The New York Times Copyright © The New York Times.
Copyright © United States Holocaust Memorial Museum, Washington, DC