Women in the Third Reich — Photograph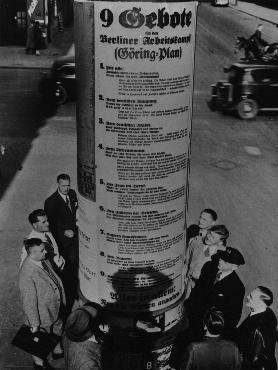 German pedestrians read Hermann Goering's "Nine Commandments for the Workers' Struggle," which included such exhortations as this one to German women: "take hold of the frying pan, dust pan and broom and marry a man." Berlin, Germany, May 1934.
— National Archives and Records Administration, College Park, Md.
---
Related Holocaust Encyclopedia Articles:
---
Copyright © United States Holocaust Memorial Museum, Washington, DC