Death Marches — Photograph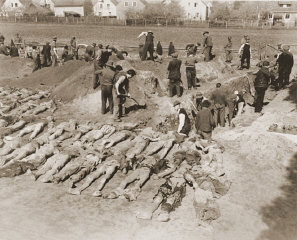 German civilians from Schwarzenfeld dig graves for the reburial of 140 Hungarian, Russian, and Polish Jews exhumed from a mass grave near the town. The victims died while on an evacuation transport from the Flossenbürg concentration camp. Schwarzenfeld, Germany, April 25, 1945.
— National Archives and Records Administration, College Park, Md.
---
Related Holocaust Encyclopedia Articles:
---
Copyright © United States Holocaust Memorial Museum, Washington, DC