Death Marches — Photograph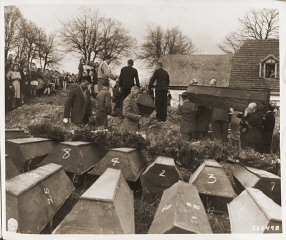 German civilians from Volary attend burial services for the Jewish women exhumed from a mass grave in the town. The victims died at the end of a death march from Helmbrechts, a subcamp of Flossenbürg. Volary, Czechoslovakia, May 11, 1945.
— National Archives and Records Administration, College Park, Md.
---
Related Holocaust Encyclopedia Articles:
---
Copyright © United States Holocaust Memorial Museum, Washington, DC