Case #10, The Krupp Case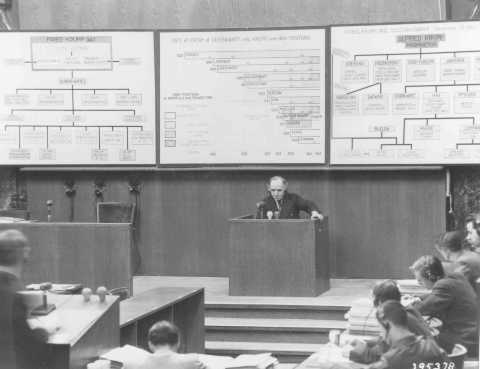 Walter Gumpert testifies for the prosecution during the Krupp Trial. Gumpert worked as a machinist at a Krupp factory. December 16, 1947.
— National Archives and Records Administration, College Park, Md.
In this trial, 12 executives from the Friedrich Krupp Comany, which specialized in armaments production and ship construction, were accused of war crimes and crimes against humanity for their theft of property, devastation, and exploitation of countries under German occupation, and use of civilian forced labor in their factories. The Tribunal acquitted one defendant and sentenced the others to prison terms ranging from 2 to 12 years. In almost all instances, these sentences were reduced to time already served.
---
Copyright © United States Holocaust Memorial Museum, Washington, DC
Encyclopedia Last Updated: May 11, 2012