Arthur Seyss-Inquart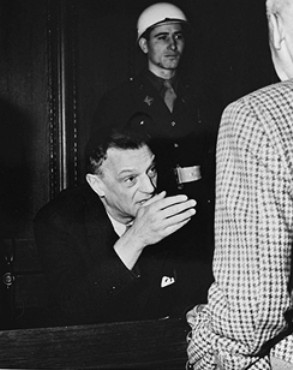 Defendant Arthur Seyss-Inquart talks to fellow defendant Wilhelm Frick during a court recess.
— Harry S. Truman Library
Arthur Seyss-Inquart (1892-1946) was Reich governor of Austria, deputy governor to Hans Frank in the General Government of Occupied Poland, and Reich commissioner for the German-occupied Netherlands. In the latter capacity, Seyss-Inquart shared responsibility for the deportation of Dutch Jews and the shooting of hostages. He was found guilty on counts two, three, and four (crimes against peace, war crimes, and crimes against humanity) and sentenced to death. Seyss-Inquart was hanged on October 16, 1946.
Copyright © United States Holocaust Memorial Museum, Washington, DC
Encyclopedia Last Updated: May 11, 2012