Baldur von Schirach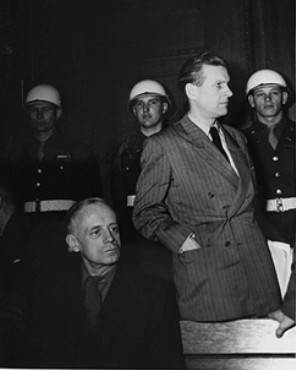 Joachim von Ribbentrop (left), former German Foreign Minister, and Baldur von Schirach (right), former leader of the Hitler Youth, during a recess at the International Military Tribunal.
— Harry S. Truman Library
Baldur von Schirach (1907-1974) was leader of the Hitler Youth (1933-1945), and Reich Governor and Nazi party Gauleiter (district leader) in Vienna, Austria (1940-1945). In the latter position his responsibilities included deporting Jews from Vienna to ghettos and camps in Poland. Schirach was found guilty on count four (crimes against humanity) and sentenced to 20 years imprisonment. He was released in 1966.
Copyright © United States Holocaust Memorial Museum, Washington, DC
Encyclopedia Last Updated: May 11, 2012