Hjalmar Schacht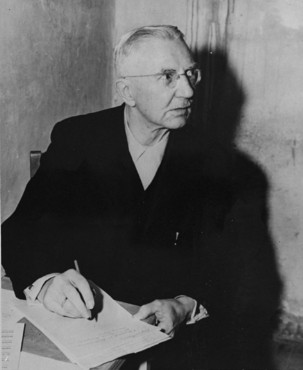 Defendant Hjalmar Schacht, former German Minister for Economics, in his prison cell at Nuremberg.
— National Archives and Records Administration, College Park, Md.
Hjalmar Schacht (1877-1970) was Minister of Economics and General Plenipotentiary for the War Economy until 1937 and Reichsbank (national bank) president until 1939. Superceded by Göring in economic affairs, he remained as Minister without Portfolio until 1943. Following the assassination attempt on Hitler in 1944, Schacht was sent to a concentration camp for his contacts with conservative resistance members. Schacht was acquitted at Nuremberg; however, he was tried and sentenced by a German denazification court to eight years in a work camp. Schacht was released in 1948.
Copyright © United States Holocaust Memorial Museum, Washington, DC
Encyclopedia Last Updated: May 11, 2012