Map
Rescue of Danish Jews, fall 1943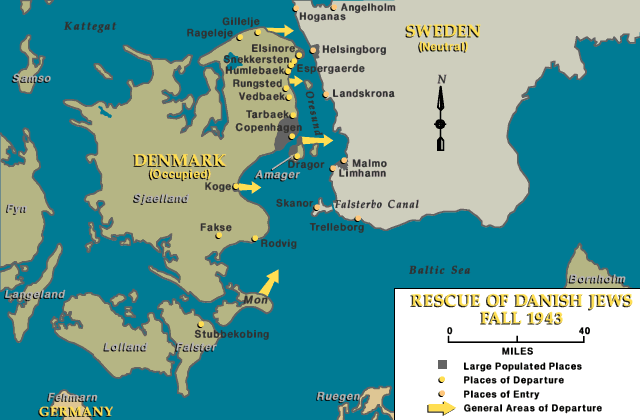 Germany occupied Denmark in 1940. When the Germans decided to deport Jews from Denmark in August 1943, Danes spontaneously organized a rescue operation and helped Jews reach the coast; fishermen then ferried them to neutral Sweden. The rescue operation expanded to include participation by the Danish resistance, the police, and the government. In little more than three weeks, the Danes ferried more than 7,000 Jews and close to 700 of their non-Jewish relatives to Sweden, which accepted the Danish refugees. The Germans seized about 500 Jews in Denmark and deported them to the Theresienstadt ghetto in Bohemia. The Danes demanded information on their whereabouts. The vigor of Danish protests perhaps prevented their deportation to the killing centers in occupied Poland.
— US Holocaust Memorial Museum
Copyright © United States Holocaust Memorial Museum, Washington, D.C.