Map
Extermination camps in occupied Poland, 1942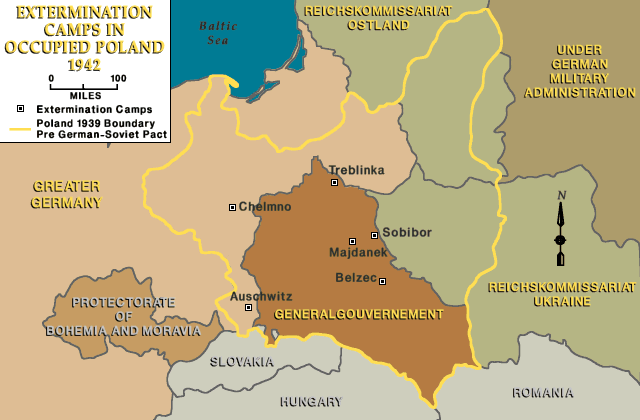 Extermination camps were killing centers designed to carry out genocide. Between 1941 and 1945, the Nazis established six extermination camps in former Polish territory--Chelmno, Belzec, Sobibor, Treblinka, Auschwitz-Birkenau (part of the Auschwitz complex), and Majdanek. Chelmno and Auschwitz were established in areas annexed to Germany in 1939. The other camps (Belzec, Sobibor, Treblinka, and Majdanek) were established in the Generalgouvernement (General Government) of Poland. Both Auschwitz and Majdanek functioned as concentration and forced-labor camps as well as killing centers. The overwhelming majority of the victims of the extermination camps were Jews. An estimated 3.5 million Jews were killed in these six extermination camps as part of the Final Solution. Other victims included Roma (Gypsies) and Soviet prisoners of war.
— US Holocaust Memorial Museum
Copyright © United States Holocaust Memorial Museum, Washington, D.C.